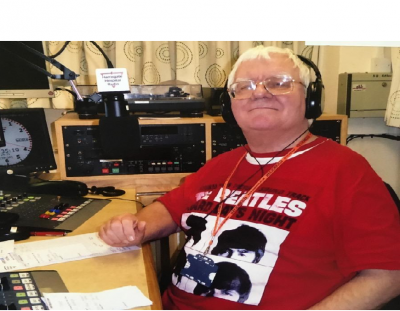 There are very mixed emotions here at Harrogate Hospital Radio, emotions of sadness and excitement.
Sadly on Sunday April 16, one of our longest serving members, Kenny Welford sadly passed away, very suddenly.
Kenny was a very loyal volunteer at Harrogate Hospital Radio, having been with the station for almost 40 years. In fact Kenny's voice was the first to be heard on Harrogate Hospital Radio on October 22, 1977.
Kenny will be sadly missed not only by everyone at Harrogate Hospital Radio, but by everyone at Harrogate District Hospital. Our thoughts are with his family at this very sad time.
Here is the link to the tribute to Kenny.
Harrogate Hospital Radio Pays Tribute To "First Voice" Ken Welford
Other news. Last month Harrogate Hospital Radio was awarded the Duke of York Community Initiative award scheme for the second time. Everyone at Harrogate Hospital Radio is very proud of this achievement.
On April 12, I was very proud to attend a ceremony at the University of Huddersfield to receive the award from the Lord Lieutenant of Yorkshire, Barry Dodd CBE.
On May 9, I, along with two of my colleagues from Harrogate Hospital Radio, will travel to London to St James' Palace to meet His Royal Highness, Prince Andrew, The Duke of York, to acknowledge the award received from The Duke.
Meanwhile back at Harrogate Hospital Radio, we have had some fabulous changes to our studios! We have added two new pop up banners, one for each studio, and we will use these whenever we take Harrogate Hospital Radio out "on the road" and to PR events.
We have also had a specially made table cover with our logo on for events, such as our cake stall to held on Monday, June 12, in the hospital foyer, and at other events.
Also, we have had window transfers added to the studios with our logo and strap line: Your requests, Your music, your station. They look fabulous.
Keep tuned to Harrogate Hospital Radio while you are in hospital, and don't forget, you and your friends and family can listen on-line.
Best wishes
Mark