Since September 1st 2021 Harrogate Hospital Radio are proud to be broadcasting on 95.3FM in and around Harrogate District Hospital.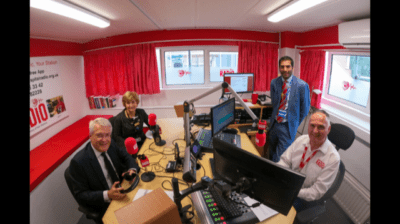 Harrogate Hospital Radio provide radios to patients on wards who are unfortunate enough to find themselves as a patient at HDH.
With the uptake of broadband services across the internet and now 3G/4G available across the United Kingdom many radio stations have found that an internet feed has gained many benefits, one which is hundreds to millions of listeners worldwide. Even when you are driving it's so easy to listen to Harrogate Hospital Radio via 3G/4G and bluetooth on your car's music system.
At this time 20% of all radio listening in the United Kingdom is via the internet.
With these benefits available, Harrogate Hospital Radio decided to widen its audience, especially for patients who have been discharged and had enjoyed the personal touch of Hospital Radio whilst in Harrogate District Hospital.
So in what ways can you listen to Harrogate Hospital Radio?
Here are just a few:
How to listen to Harrogate Hospital Radio Via the NHS Free WIFI
On your smartphone or device
Go to settings
Go to Wi-fi
Log on to the Free Public Wi-Fi
Go to your Browser and sign in when prompted with your email address.
When it is accepted it will take then straight to our website.
Click Listen Live.
iOS and Android Apps
Open the Play Store on your Android device, or the App Store on your iOS device, and search for the free Harrogate Hospital Radio app.
Once you have downloaded and installed the app, open it and press play to listen.
TuneIn
LIVE RADIO UK
https://www.liveradio.uk/stations/harrogate-hospital-radio
Radio.net
https://uk.radio.net/s/harrogatehospital
PURE Devices
Via the connect.pure.com.  Loads of advice on this website to connect Harrogate Hospital Radio to your devices, including radio, satellite, TV and mobile phones.
Listen Online Radio
http://www.player.listenonlineradio.com/uk/harrogate-hospital-radio
Online Radio Box
https://onlineradiobox.com/uk/harrogatehospital/?cs=uk.harrogatehospital
Raddio.net
https://raddio.net/218542-harrogate-hospital-radio/
SONOS
TuneIn Radio is pre-loaded in your Sonos device. Select Radio by TuneIn from the menu on your controller or controller app.
XBOX
Your Xbox Live account will be linked to your TuneIn account when you first sign in to TuneIn on your device. Once signed in you will have access to the content you follow on TuneIn. As you follow more content, your home screen will change to reflect your taste in music, news, talk and sports.