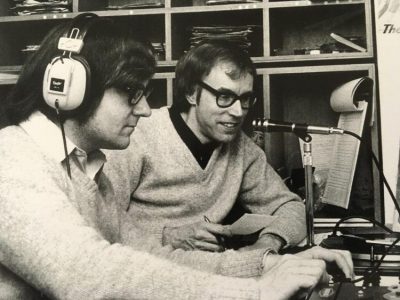 Harrogate Hospital Radio has paid tribute a founding member and its "first voice", who died suddenly last week.
Kennys Funeral will be held
Thursday 11th May. 
A Service at 10.30 at St Aelreds Catholic Church, Woodlands Drive, Harrogate HG2 7BE.
The family will then go to the committal at Stonefall cemetery and join everyone at the Woodlands Pub, 110 Wetherby Rd, Harrogate HG2 7AB around 12.00 midday. 
There will be a quiz!
Ken Welford was the first voice to be heard on the wards of the town's district and general hospitals, when Harrogate Hospital Radio took to the air on the evening of October 22, 1977.
He was also instrumental in the founding of Stray FM, and, when it took the giant leap of moving from being a volunteer-led "festival radio" station to becoming a commercial radio station, Ken was one of its regular presenters from the launch.
During this time Ken, who celebrated his 69th birthday a fortnight ago, took a sabbatical from the charity broadcaster to concentrate on his full-time professional radio career.
However, he never lost contact with his former colleagues, and, when he retired, he re-joined Harrogate Hospital Radio as a presenter, as well as taking over the important position of treasurer.
At the charity's annual Meeting in March, Ken presented his last set of accounts. His valuable service was rewarded by him becoming one of the charity's trustees, a role he sadly wasn't able to fulfil.
Harrogate Hospital Radio chairman Mark Oldfield said: "We are all in deep shock. Ken was an incredibly popular member and was hugely respected by all his colleagues.
"His death has hit us hard and we offer our deepest sympathies to his family. We will be paying a full tribute to Ken 'on-air' in the coming weeks, featuring many of his favourite records.
"And, was we now broadcast via the internet, his family and friends will be able to listen to it."
Former chairman and trustee Ian Wighton, who joined Harrogate Hospital Radio six months after its launch, said: "Words can't begin to express how I feel at this time.
"Ken was the first person I met at Harrogate Hospital Radio. He was my mentor, my inspiration and, more importantly, my friend. He was passionate about radio and was never happier when playing one of his favourite Beatles tracks."
The date and time of when the tribute to Ken Welford will be broadcast will be published in advance on our website, found at: https://www.harrogatehospitalradio.org.uk/