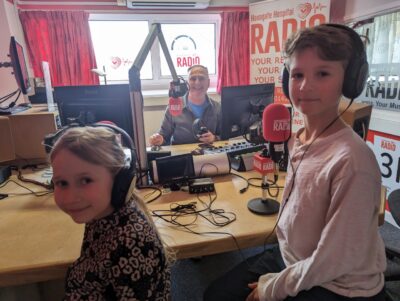 Satutrday 15th April, Mark Field had some very special guests in the studio. Oscar Crellin came along with his sister Celine, Mum Victoria and Dad James.
Oscar won the 'Design a Christmas Stocking' competition 9- 12 year old catagory.
Oscar chose some fantastic tracks we played during his visit, such as Seven Nation Army – White Stripes, Evacuate the Dancefloor – Cascada, Spaceman – Sam Ryder and Voules Vous – ABBA to name a few.
Mark said ' It is always a pleasure to welcome visitors to Harrogate Hospital Radio, especially when they are so young and choose fantastic music to play on the show. Oscar is clearly a radio presenter in the making, he was so good and a natural on air'.
Oscar and Celine sent us  a 'Thank you Harrogate Hospital Radio' message made out of cookies given as a gift by Mark.