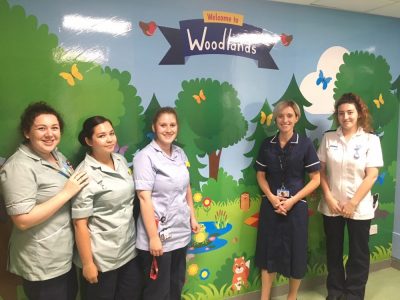 Children's areas at two North Yorkshire hospitals have been transformed with new bright and vibrant artwork which improves the experience of visiting hospital for young patients and their families.
Woodlands Children's Ward at Harrogate District Hospital and the Children's Outpatients Department at Ripon Community Hospital have been decorated with colourful woodland-themed artwork, creating a nicer and friendlier environment for young patients who are visiting or staying in hospital.
On Woodlands Ward, the corridor and ward entrance as well as areas on the ward have been revitalised, with the waiting area at Ripon Community Hospital's Outpatients Department and corridors also being decked-out with the bright and welcoming creations. Animals featured in the new artwork include; owls, frogs, rabbits and badgers, as well as characters Sal the Squirrel and Jen the Fox.
The artwork at both hospitals has been created and fitted by Studio One – a Harrogate-based creative signage studio – whose members of staff have visited Woodlands Ward at Harrogate District Hospital with young patients in the past.
Woodlands Ward is a general paediatric (children's) ward, treating infants, children, and young people, ranging in age from one day to 16 years old. The paediatric nursing team take on a family-centred care focus and a multidisciplinary approach. Children's outpatient services provided at Ripon Community Hospital include; general clinics, preoperative assessment and nurse led respiratory.
Julie Walker, Matron for Paediatric Services with Harrogate and District NHS Foundation Trust, said: "We're thrilled with the new artwork on and around Woodlands Ward and in our Outpatients Department at Ripon Community Hospital. Young patients and their families who are either visiting hospital for an appointment or staying with us as inpatients will be greeted by a much more bright and eye-catching environment.
"We'd like to thank Studio One for the great job they've done. The artwork is a lot more interactive and vibrant for our patients, and has really transformed the areas and brought them to life again."
The artwork in both areas follows the refurbishment of the Children's Outpatients Department at Harrogate District Hospital last year, which benefited from a £75,000 makeover thanks to local businesses and charities – including Studio One. The department now houses two new consulting rooms, additional specialist nurse clinics, and a more welcoming, interactive and child-friendly waiting area.