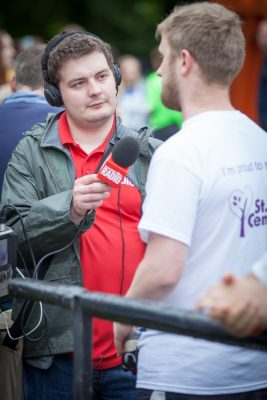 This month I'm delighted to feature another 2016 Volunteer Oscar Award winner, with the aim of encouraging readers to nominate a volunteer for a 2017 award, take up a volunteering role or best of all, both, writes Karen Weaver. Oliver Stables was the winner in the Ackrill Media Group Unsung Hero Harrogate award in 2016. Oliver's story is a great illustration of how getting young people involved in volunteering can lead to a lifelong and very positive habit. His experience is also a reminder to organisations wanting to recruit volunteers of the importance of giving people the chance to find out what's on offer in an informal and friendly way.
"I became involved with Harrogate Hospital Radio when I was 16. This was 16 years ago, after I attended an open day at the hospital. I already had a great interest in radio and the entertainment industry, as I went on to study for a technical career in the theatre. Since then I have been volunteering at Harrogate Hospital Radio, except for a brief break whilst working at a theatre away from the area."
I asked Oliver what is the best thing about being a volunteer at Harrogate Hospital Radio. I expected him to tell me how much he enjoyed presenting shows or selecting music but there is much more to the role than that: "The best thing is helping to make a patient's stay in hospital that little bit better with our tailor made shows and through collecting their personal requests. Their requested song or music usually has some special meaning to the patient and in some way gives them comfort". Sandra Dodson, Chairman at the Hospital, agrees with this; "We know from national research that hospital radio has a positive impact on health outcomes for patients. This includes boredom reduced by entertainment, and loneliness reduced by social interaction".
Like many volunteers Oliver is very modest about his role; "When I discovered that I had been awarded "Unsung Hero" at the 2016 Volunteer Oscars, I was shocked and thought why me? Like any other dedicated volunteer we do it because we love what we are doing and in the case of Harrogate Hospital Radio, our rewards are from the feedback we receive from our listeners, the patients. We do not seek out awards for what we do, but at the same time the Volunteer Awards are an excellent way of highlighting the work that is done by volunteers in the area across a wide spectrum of activities. It also creates awareness that there is probably an opportunity for everyone to get involved as a volunteer in some capacity or other."
Oliver added: "There are no downsides to being a volunteer at Harrogate Hospital Radio and I would recommend that anyone who is interested in contributing to making a patient's stay in hospital a good experience gives volunteering with Harrogate Hospital Radio a go. No experience is necessary and full training is provided". Sandra Dodson highlights the impact of another role too; "As well as presenters and people behind the scenes in the studio, song request collectors are a welcome sight on our wards."
To nominate a volunteer who has made a difference, nominate via www.harcvs.org.uk. You'll also find our fully searchable directory of local volunteering opportunities there. Type in "entertainment" related opportunities and 18 varied and intriguing roles come up – several with Harrogate Hospital Radio, as well as costumed interpreters. Take a look.
Read more at: http://www.harrogateadvertiser.co.uk/news/time-to-nominate-volunteers-1-8698736