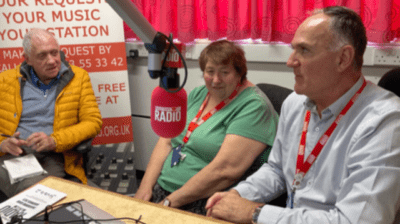 Our Very own Chairman, Mark Oldfield has been nominated to be  The Stray Ferrets  'Harry's Harrogate Hero' .
Former BBC Look North presenter Harry Gration came in to the studios to meet Mark and Ellie Jackson (who nominated Mark on behalf of the committee and members of Harrogate Hospital Radio).
The Stray Ferret say we've been inundated with many wonderful nominations.
Well done to all those who were nominated. It has been a privilege to read so many heartwarming stories from across the district about people who go above and beyond and as a result make such a massive difference.
Choosing the finalists has not been easy. However, we finally agreed on the following six individuals to feature in the podcasts and go to the public vote to be crowned Harry's Harrogate Hero.
Well done to:
Lauren Doherty
Mark Oldfield
Susie Little
Cath Wilson
Helen Mackenzie
Greta Knight
The voting starts on Monday 15th November and closes on the 25th of November.
Please go to the Stray Ferret website and vote for Mark.
Good luck to all the nominees.