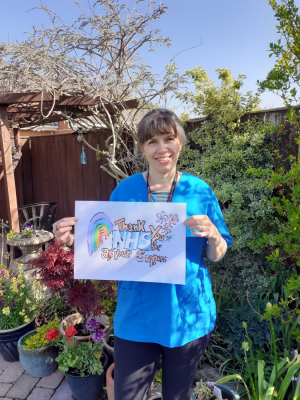 New mums in Stockton borough looking for support, advice and guidance about infant feeding are able to access an enhanced range of virtual NHS support during the Coronavirus pandemic thanks to the efforts of the Stockton Infant Feeding Team.
In National Breastfeeding Celebration Week 2020 (1-7 June), the Team is raising awareness about the new initiatives that have been put in place to support new mums with any feeding and mental health queries including video appointments, the use of social media, and telephone calls.
This year's theme is supporting breastfeeding during COVID-19 and the Infant Feeding Team is keen to help mums stay connected and supported.
Facebook support
The popular Facebook page (https://www.facebook.com/stocktoninfantfeeding) is being used as a form of digital support for mums with a messaging facility and a daily virtual breastfeeding support group which mums can access and make a video call appointment.
The Team has received very positive feedback for providing helpful, clear information in a positive way.
Proactive calls
Proactive calls are also being offered by a team of public health nurses and have proved effective in supporting mums with breastfeeding during the coronavirus pandemic.
Service Manager, Sarah Massiter, said: "Our virtual breastfeeding clinics are a way of reaching out and continuing the support within our Stockton community and we're delighted to raise awareness of the work we are doing in National Breastfeeding Celebration Week.
"It has been a challenge for everyone up and down the country to adapt to new ways of working due to the pandemic and we are really pleased that our new ways of keeping in touch are working well for mums. We've had some really positive feedback and it's important that mums know we are still here to provide much-needed support, guidance and advice."
The Stockton Infant Feeding Team works to provide advice and support around Infant Feeding in Stockton and the surrounding area to improve wider health inequalities. The team delivers support to mums via a small team of health visitors, a Staff Nurse, a Specialist Infant Feeding Practitioner and volunteers.
The Team is part of Growing Healthy Stockton-On-Tees which provides school nursing and health visiting services across the borough, provided by Harrogate and District NHS Foundation Trust.