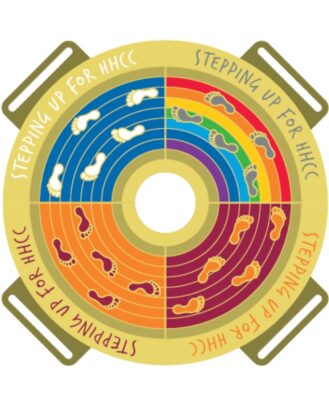 We are challenging you to collectively step across our footprint, covering 405 miles in Spring 2021. That is a grand total of 810,000 steps across Harrogate, Leeds, North Yorkshire and our community services in the North East. You can take on the full challenge, walk, jog or run a segment of our footprint or contribute to our overall grand total. We want to see how many times we can step around our footprint. 
This challenge is for everyone. You can go on a long hike one day, a quick jog or potter around your garden. Every step counts and you can share all of your steps to our closed Facebook group or Strava group. Alternatively, if you can email your steps to the HHCC team at hdft.hhcc@nhs.net, we will add your steps to our totaliser which will be shared on a weekly basis.
For this challenge, there is a sign-up donation of £20, for which you will receive your own Stepping up for HHCC T-shirt, top tips on how to fundraise and a medal.  You will also receive access to our exclusive virtual support groups, Stepping up for HHCC closed Facebook Group, and our Strava Group.  The money raised through this challenge will benefit patients, staff and families across Harrogate and District NHS Foundation Trust (HDFT).
You may also wish to fundraise for this exciting event via our fundraising platform. We have fundraising guidance which will be shared with you with hints and tips to get your friends, colleagues and family involved in your step challenge.
Step up for HHCC and support your local NHS!
For Full Information and to sign up go to their website https://hhcc.co.uk/stepping-up-for-hhcc/?fbclid=IwAR1AOaSC3_XubV6JF_sEFzKARxXsWp8od1-NyVNnQktH5K6iB5Sq3bu-7tQ
Why you should join our challenge
Health & Wellbeing benefits – boost your fitness and emotional wellbeing this Spring and raise money for HHCC
Support your local NHS – the NHS has never been more needed. Here is a safe way to raise money
Increase your knowledge and awareness of the HDFT footprint – help us celebrate and champion all of our colleagues and services. Let's see how many times we can walk, jog or run around our footprint
Rules