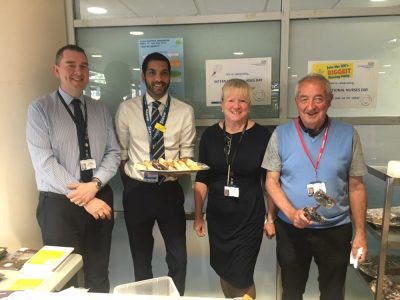 Staff at Harrogate District Hospital and across Harrogate and District NHS Foundation Trust's community locations have been celebrating yesterday's International Nurses Day with cake!
International Nurses Day is celebrated around the world on 12 May every year, and volunteers along with Executive colleagues at the NHS trust have been handing out cake to patients, visitors and staff at Harrogate District Hospital, provided by the Trust's Catering Team. Staff across the organisation's community locations have also been celebrating the occasion with their own cake and celebrations, both today and at the weekend.
Jill Foster, Chief Nurse for Harrogate and District NHS Foundation Trust, said: "This International Nurses Day, we're celebrating and saying thank you to the nursing profession all over the world, but particularly here at the Trust.
"Our nurses work tirelessly across our hospital and community sites, constantly providing high-quality, exceptional healthcare to our patients. It's fantastic that we're able to celebrate the day with all of our staff and patients – with cake too!"
Harrogate and District NHS Foundation Trust provides nursing services across North Yorkshire, Leeds and the North East, in a number of specialities for adults and young people.