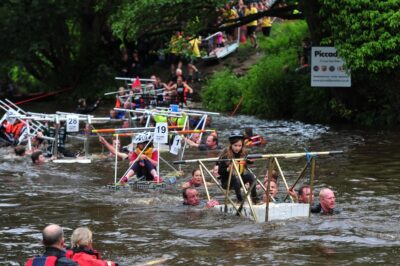 SATURDAY 11th JUNE 2022
Harrogate Hospital Radio will be 'BRINGING THE OUTSIDE IN' as we will  broadcast LIVE from the Great Knaresborough Bed race on 95.3FM on-line, on your smart speaker and on our free app from the bed race throughout the day.
Ian Wighton will be live in the studio from 10.00am with live links from the start of the race. We then continue with live coverage on The Happy Hour and then The Daniel Wilson Show. Ollie Thomas will take over at 15.00hrs with live coverage until the end of the race.
The event, held since 1966 and described as one of the largest community events held on the public streets in the North of England, will be staged on Saturday June 11.
"The theme for 2022 is 'The Environment: Reduce, Reuse and Recycle'.
The event is organised by volunteers from the Knaresborough Lions to raise funds to meet local charitable and community needs.