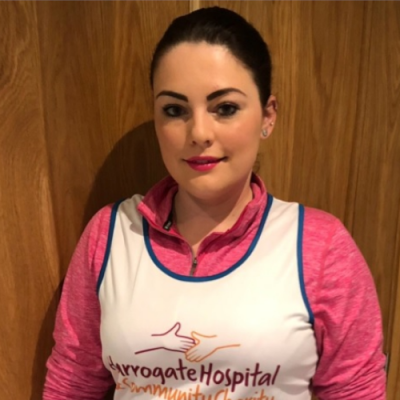 Following a "shock" stroke suffered by her dad that encouraged her to start running, a member of staff at Harrogate and District NHS Foundation Trust is taking on the Yorkshire Marathon.
Sammy Lambert, Business Development Manager, is tackling the gruelling marathon to raise funds for Harrogate Hospital and Community Charity and the Cardiology Department at Harrogate District Hospital.
Sammy said: "Following a stroke that my dad suffered in 2016, it was a real wake-up call and a huge shock, as he was really healthy and active. My dad has had to use a lot of different NHS departments, including the Cardiology Department, who along with the Charity, have been fantastic and really supportive. My husband lost his father when he was young and he was fit, healthy and a keen runner, so with this in mind and the recent care my own dad received, I wanted to raise valuable funds.
Sammy took up running as a beginner and, after struggling at first, she is now running long distances on a regular basis thanks to her running club, Run York and Sweat Equity. Sammy, who lives in North Yorkshire, is a full-time carer to her dad, who she has a close relationship with. As well as being supported by her dad, Sammy's mum and husband, Matt, are also offering their support to her fundraising efforts.
She said: "When I started, I couldn't run for 100 yards, but I'm now regularly running long distances thanks to Run York and Sweat Equity, who have been really supportive and believed in me from the beginning. My dad's advice is "if something is worth doing it is not easy!"
"After all the support I've been given, I decided the time was right to run the Yorkshire Marathon. Somebody told me that I would never run a marathon, which spurred me on even further to take on the challenge. Those that know me are aware I like a challenge though I am wondering if this too much of one!"
The Asda Foundation Yorkshire Marathon takes place on Sunday 14 October, and covers approximately 26.2 miles, starting and finishing in York.
However, Sammy's efforts have not come without their challenges. She added: "In 2017, following medical advice, I couldn't run for 17 weeks – which has made training for the marathon even harder. The thought of running 26.2 miles in just over a month's time is really scary. I have only ever run 16 miles in one run and that took me a long time, how I'm going to find another 10 miles in me I don't know, but I've got the opportunity to support the Cardiology Department after how fantastic they have been to both me and my family."
To donate and support Sammy's efforts, visit: http://justgiving.com/sammysyorkshiremarathon. For more information on the Asda Foundation Yorkshire Marathon, visit: https://www.runforall.com/events/marathon/yorkshire-marathon/.