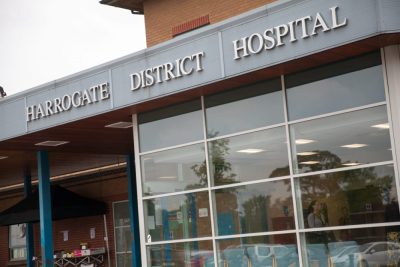 Doctors and the wider team at Harrogate District Hospital are reminding people to think carefully before going to the Emergency Department for their care. 
The hospital's Emergency Department has seen a significant increase in patient numbers over the past couple of months, and people with less urgent issues are experiencing longer waiting times.
The department was seeing around 130 patients per day in March 2021, this has grown to over 160 per day in May 2021.
Unless it's a life-threatening illness or injury, people are being urged to contact NHS 111 first. The NHS will help you right away and if you need urgent care, the NHS can book you in to be seen quickly and safely.
Contacting NHS 111 first will help NHS urgent and emergency care services maintain social distancing and ensure that patients receive the right care in the right place, in a timely and safe way.
NHS 111 is accessible via the 111.nhs.uk website or by calling 111.
People with life-threatening illnesses or injuries should continue to dial 999 and anyone who arrives at A&E without calling NHS 111 will still receive medical care, with those needing emergency treatment prioritised.
Dr Matt Shepherd, Consultant Emergency Medicine and Clinical Director Long Term & Unscheduled Care, said: "Over the past couple months the number of patients seeking treatment at our Emergency Department has increased considerably. We are now seeing approximately 8% more patients attending our Emergency Department then were doing so before Covid-19 began, which makes it very difficult to ensure we can safely keep social distancing measures in place.
"Colleagues in the department – and the wider hospital – are working incredibly hard to provide care but we do ask that people think about other healthcare options available to them.
"The most urgent and life-threatening cases take priority, which means that unfortunately people coming in with less urgent issues are experiencing longer waiting times. Our Emergency Department is for emergencies only, such as severe chest pain, difficulty breathing, significant head injuries and broken bones. 
"Using an alternative to the Emergency Department when you aren't seriously ill, such as calling NHS 111, consulting your GP or visiting your community pharmacist, could mean that you end up waiting less time to receive care.
"You can also check any symptoms and find out what to do and when to get help using the NHS website – nhs.uk. It can find services near you, such as local pharmacies, who can offer advice for common health problems such as sore throats and headaches, aches and pains, bumps and bruises or sickness and diarrhoea."