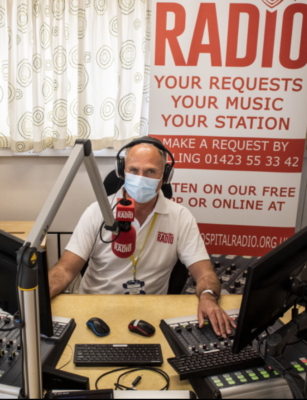 Harrogate Hospital Radio's Chairman has been honoured at this year's Hospital Broadcasting Association Awards with a prestigious accolade.
Mark Oldfield was named as the recipient of the John Whitney Outstanding Contribution Award – which 'celebrates an outstanding contribution, by an individual, to their station/hospital radio' – at the organisation's annual celebration of hospital broadcasting, held online on Saturday night.
Mark was nominated for the award by his fellow Harrogate Hospital Radio Committee members, which in turn was supported by Harrogate & District NHS Foundation Trust, Angela Schofield and Harrogate MP, Andrew Jones.
In their submission, the committee said: "Mark is unaware we are nominating him for this award, but we are doing it as a way of recognising the tremendous contribution he has made to the radio station since he joined us as a rookie broadcaster in August 2013.
"This year, more than ever, Mark has displayed considerable leadership. Thanks to his efforts, which included securing funding for new technical equipment, this ensured that, from the start of the first Covid lockdown, with presenters broadcasting from home, "the shows went on", whilst he ran the studio alone for three months.
"Along with our studio manager and one of our trustees, Mark is working closely with the Trust's Volunteer Co-ordinator team to keep everything up to date, both for the Trust and our members.
"And as the for future of HHR, under Mark's chairmanship it will continue to go from strength to strength. His sights are firmly set on its next, exciting phase, a restricted service licence where we can broadcast on FM."
Mrs Schofield added: "Mark Oldfield is a dynamic and talented enthusiast for Hospital Radio. We at Harrogate District Hospital are the delighted beneficiaries of all the time and ingenuity he brings to Harrogate Hospital Radio.
"Mark is really significant part of the hospital. He is popular, full of life and very caring. He fully deserves an award."
And Mr Jones wrote: "Mark is a tireless local campaigner for Harrogate Hospital Radio (HHR) and would be a worthy recipient of this award.
"In the past I have volunteered at the station, done interviews with their team, as well as joining ward rounds to take music requests from patients. HHR is an important part of the wellbeing provision at the Hospital and I have seen on several occasions the positive impact they have on the many people to whom they broadcast."
In an email to Mark at the conclusion of the awards ceremony, June Sowden, Hospital Broadcasting Association President, wrote: "Many congratulations on receiving the John Whitney Award.
"I am thrilled for you, and I have heard from the station members how much of a contribution you made this past year. It amazed me when you also told me how much you were able to continue with, and the effort you put, into ensuring the station continued despite the pandemic.
"Well done, and many congratulations. I am proud of you for all your hard work."
Harrogate Hospital Radio Chairman Mark Oldfield said: "I had no idea I had been nominated for the John Whitney Award by the committee, Angela and Andrew, and I am simply stunned to have won it. I was speechless when my name was read out.
"I'm honoured, thrilled, delighted and extremely humbled. I'm incredibly lucky to be supported in my role by a fantastic team of volunteers who make my job so much easier.
"Whilst this award recognises my contribution, without our members' individual contributions there would be no Harrogate Hospital Radio."