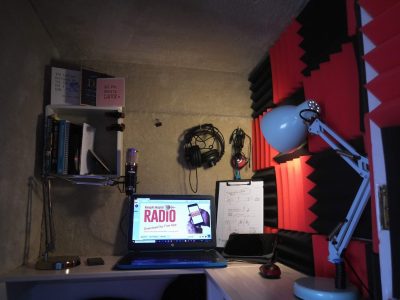 A charity radio station which has seen its presenters broadcasting from improvised studios in their homes has been given a £1,000 boost by Harrogate Freemasons.
When the Coronavirus barred access to the wards of Harrogate District Hospital to all but patients and essential staff, its volunteer-led radio station moved its operation offsite.
Thanks to technology, a total of three makeshift studios were created in the homes of Harrogate Hospital Radio members – ensuring shows will go on, 24 hours a day!
And now with a £1,000 donation, the society has been able to purchase the necessary equipment to allow more presenters to broadcast from home.
The money has come courtesy of the Freemasons Province of Yorkshire West Riding's Provincial Grand Master's Fund, after being put forward for a grant by the members of Harlow Lodge, which meets at Harrogate Masonic Hall.
Each year, the fund distributes £200,000 to good causes around the Province, which is based on the old West Riding, geographically ranging from Sheffield in the South to Ripon in the North.
Harrogate Hospital Radio Chairman Mark Oldfield said:
"I can't thank the members of Harlow Lodge enough for nominating us for this fantastic donation. It means we can now purchase the necessary equipment to enable more of our presenters to broadcast their shows from home.
"Once we are able to return to our studios, the technology will mean we can hopefully attract disabled people to our organisation, as access to our facilities is limited.
"Over the years we have received tremendous support from the Freemasons and have benefited greatly from their financial support, including the refurbishment of one of our studios."
David S Pratt, Provincial Grand Master of the Province of Yorkshire West Riding, said:
"Harrogate Hospital Radio is a fantastic charity, run by volunteers for the good of the patients and staff within the town's District Hospital.
"It's a pleasure to have been able to award this grant. We have a long and happy association with this charity with two former chairmen being Freemasons.
"Coronavirus many have stopped its members from physically accessing their studios, but it hasn't stopped them continuing the service they have provided for more than four decades."