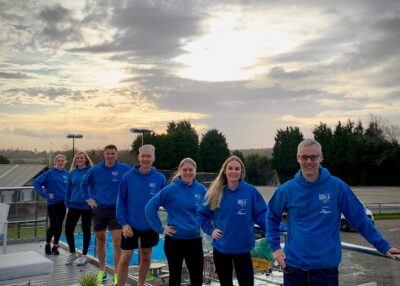 A Harrogate-based pioneering exercise and activity service for patients with cancer has won the Excellence in Healthcare category of the NHS Parliamentary Awards 2020 for the North East and Yorkshire.
Active Against Cancer (AAC) is part of Harrogate and District NHS Foundation Trust, and was nominated for the innovative support it provides by incorporating exercise, health and wellbeing into the standard treatment plans offered to cancer patients. The service is adding to the growing body of scientific evidence of the health benefits of leading an active lifestyle.
Supporting service users from the start of their journey, the AAC team offers one-to-one assessment at the time of diagnosis, personalised prehabilitation programmes, maintenance programmes for those undergoing chemotherapy and radiotherapy, and personalised rehabilitation programmes when treatment has finished.
Based at Harrogate Sports and Fitness Centre, the service has intentionally cultivated an inviting, social space to encourage peer support and offer a diverse range of classes such as circuits, pilates, yoga, dance and walking. During the initial wave of Covid-19, the service continued to support patients remotely with video consultations and online classes. Since August, it has restarted face-to-face classes and continues to grow, supporting patients both with face-to-face classes in a Covid-safe environment and remotely.
AAC launched as a pilot in April 2019, and prior to Covid-19 was supporting approximately 380 face-to-face specialist exercise visits per week. Patient feedback has been overwhelmingly positive with an overall patient experience of 4.98/5 so far, with many patients going on to become volunteers and actively fundraise for the service.
The aim was that patients nationwide would be able to access something similar locally, with AAC acting as a blue print for other similar services to launch.
Emma Radcliffe, Lead Cancer Manager at the Trust and instrumental in getting Active Against Cancer up and running, said: "If exercise were a pill, it would be prescribed to every cancer patient, and we are so proud of the progress our service users have made with Active Against Cancer.
"Winning this award is a testament to the dedication of everyone on the team, all of whom have had to adapt their ways of working recently to continue to provide excellent support to those accessing AAC."
Andrew Jones MP for Harrogate, said: "Staying active when you are battling a serious illness can be difficult. It is however essential, particularly following a cancer diagnosis as the mental and physical health benefits of doing so are important for the long-term prognosis and recovery.
"Winning the Excellence in Healthcare Award is a great recognition of how Harrogate's Active Against Cancer team support people living with cancer throughout their journey from diagnosis through to rehabilitation and life-long activity. It is part of the holistic approach to cancer treatment in our area, which has led to some of the best cancer care outcomes in the entire country. That is why thousands of people – people who have been helped through some of the most difficult times in their lives – will be celebrating alongside the team at the news of this much-deserved award."
The national awards ceremony will take place at the Palace of Westminster in July 2021.