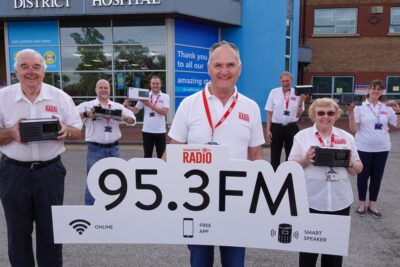 Harrogate's longest-running radio station has been awarded an FM licence.
From 9am on Wednesday, September 1, Harrogate Hospital Radio – which first took to the airwaves in October 1977– will begin broadcasting on 95.3FM, one of the biggest and most important steps in its 44-year history.
The news from Ofcom marks the end of a three-year person quest for an FM licence by the charity broadcaster's Chairman, Mark Oldfield, who had twice previously been knocked back by the regulator.
Mark, who earlier this year was named as the recipient of the John Whitney Outstanding Contribution Award at the Hospital Broadcasting Association Awards, said: with a prestigious accolade, said: "This is just brilliant news, and I can't begin to tell you what this means to Harrogate Hospital Radio.
"An awful lot of hard work has gone into our submission, and I'd like to thank MP Andrew Jones and Harrogate Hospital Radio NHS Trust Chair, Angela Schofield, and its Chief Executive, Steve Russell, for their support.
"Whilst people were able to tune into us via our website, 2018 saw our very future under threat when the hospital bedside entertainment consoles were removed, meaning patients were unable to listen to us.
"However, thanks to the brilliant team we have at Harrogate Hospital Radio, we quickly launched an app. We purchased 55 wifi radios and, with the full cooperation of the Trust, we placed them in various locations around the hospital, including reception and waiting rooms."
That year, Mark applied to Ofcom for a FM licence, to enable the station to broadcast to a wider 'local' audience. However, it was turned down because according to Ofcom, 'there was no frequency available for us to broadcast'!
Mark added: "In 2019, Harrogate lost its only local FM radio station to a national franchise, which, in my opinion, left a whole without any local contact and local approach.
"Because of this, and having researched availability of FM frequencies, I decided to apply once again to Ofcom, which was once again rejected!
"I then to set up a petition and had a zoom meeting with our local MP, Andrew Jones, who told me he would help as much as possible to try gain a licence. He truly believed we had a very good case to provide a service to the patients, patients' families, visitors and staff at Harrogate District Hospital.
"Early this year, I was invited to resubmit my application and, finally, at the end of May, I got a call from Ofcom to inform me my application had been successful.
"Our aim is for more patients to listen to Harrogate Hospital Radio with the purchase of approximately 300 FM radios, so each bed will have a radio to listen to, and to request music on Harrogate Hospital Radio."
"Our aim for the future is to be Harrogate District Hospital and the surrounding area's dedicated local radio station."
Harrogate Hospital Radio will be switching on its FM frequency live, at 9.53am, on Wednesday September, 1, when it will broadcast for the first time on 95.3FM!
For more information, please visit our website, https://www.harrogatehospitalradio.org.uk/ or call 01423 553342.