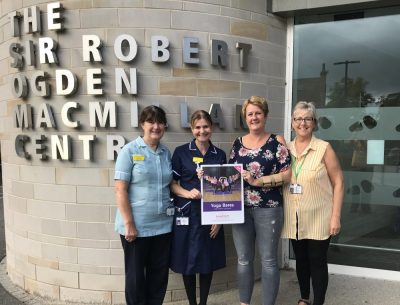 A North Yorkshire woman recovering from cancer is launching a yoga-themed 2020 calendar to "give something back" to Harrogate District Hospital's Sir Robert Ogden Macmillan Centre.
Nyree Salter was diagnosed with breast cancer in June 2018, and after the 14 months of treatment she received from staff at the centre, decided to produce and sell a 2020 calendar. Through sales of 'Yoga Bares' she aims to raise £10,000.
The calendar is themed around health and wellbeing, including yoga and mindfulness, and alongside Nyree, includes 11 of her friends and family who have helped her through her cancer journey. It contains 12 different poses as well as inspirational quotes.
The calendar is £10 and is available to buy from the Sir Robert Ogden Macmillan Centre at Harrogate District Hospital, as well as; Saks Hairdressers, who did hair for the calendar; Elaine Thomas Beauty in Ripon, who did make-up; Ripon Business Services; Ripon Leisure Centre, and Ripon Spa Baths.
It's also available at Harrogate Hydro, Knaresborough Pool, Morrisons supermarkets in Ripon and Boroughbridge, Solemates Footwear in Ripon, Watkins Wright hairdressers Boroughbridge and Thirsk, and Kristie Taylor Beauty in Boroughbridge. To request a copy of the calendar to be collected from Harrogate District Hospital's Sir Robert Ogden Macmillan Centre, email cancerinformation@hdft.nhs.uk.
Nyree said: "When I was diagnosed with breast cancer last year, it turned my world upside down. However, the care I've received from the fantastic staff at the Sir Robert Ogden Macmillan Centre has been outstanding.
"I had an idea for a wellbeing-themed calendar, which helped me focus during the dark days, and got 11 friends together who've all helped me through my journey. I've had so much fun doing the calendar and have received so much support from friends, family and local businesses and organisations, and I'd like to say a massive thank you to all of them.
"Hopefully I can raise as much as possible for the Centre to say thank you for everything they've done for me during my treatment."
Sarah Grant, Macmillan Patient Information and Health and Wellbeing Manager with the Sir Robert Ogden Macmillan Centre, said: "We're incredibly proud that Nyree is fundraising for us as part of her 2020 calendar.
"We've seen how much work and time Nyree has put into planning and producing the fantastic calendar in order to raise funds for our centre, and we appreciate her efforts enormously."
The Sir Robert Ogden Macmillan Centre (SROMC) provides high quality cancer treatments and health and wellbeing services. It offers support for people affected by a cancer diagnosis in the Harrogate and rural district community, as well as some patients from the north Leeds area.