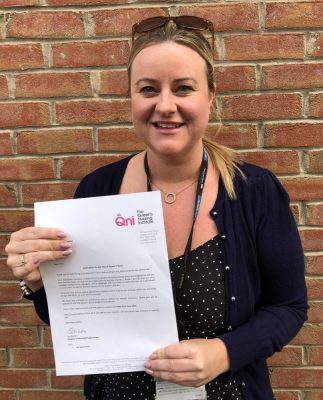 A North Yorkshire Health Visitor has described how she is "thrilled" after being made a Queen's Nurse by the Queen's Nursing Institute.
Jane Jones, a Health Visitor and Practice Teacher with Harrogate and District NHS Foundation Trust's Growing Healthy North Yorkshire service, has been awarded the title of Queen's Nurse for demonstrating a high level of commitment to patient care and nursing practice. The title is open to registered nurses and specialist community public health nurses working in the community or primary care in England, Wales or Northern Ireland.
Jane applied to be a Queen's Nurse earlier on this year, and after realising that she met the criteria as it was something she had been considering for a while, applied. The application process involved sending supporting evidence from colleagues as well as the people she cares for. Jane, who has been a Health Visitor for five years, has worked as a community nurse and as a nurse in the Royal Air Force (RAF) previously.
Becoming a Queen's Nurse provides Jane with recognition of her commitment to the nursing profession, and means she will receive access to learning and leadership opportunities, link her with a regional group and provide access to the Queen's Nurse Development Programme.
On being made a Queen's Nurse, Jane said: "I am thrilled to have been awarded the title of Queen's Nurse from the Queen's Nursing Institute. Our work in the community as specialist public health nurses, providing early support to families is crucial, and I'm delighted it has been recognised.
"The work we do makes a huge difference to the health and well-being of the families we care for – and becoming a Queen's Nurse means I'll be able to influence and inspire the next generation of nurses in health visiting by sharing ideas and best practice. Becoming a Queen's Nurse will give me a voice."
To find out more about the Queen's Nurses, visit https://www.qni.org.uk/nursing-in-the-community/queens-nurses/.