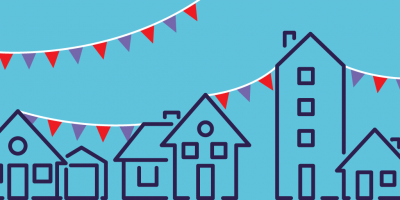 NHS organisations in Harrogate are getting together as part of the 'Looking out for our neighbours' campaign to combat loneliness and isolation across West Yorkshire and Harrogate.
Harrogate and District NHS Foundation Trust and Harrogate and Rural District Clinical Commissioning Group are proud to support The Jo Cox Foundation's 'Great Get Together', taking place from 21-23 June.
Throughout June, 'Looking out for our neighbours' delivers one simple message, 'Get together with your neighbours'. Whether it's simply saying hello, having a cup of tea or doing something for neighbours, the 'Great Get Together' is the perfect reason to connect people in neighbourhoods.
The 'Looking out for our neighbours' campaign, commissioned by West Yorkshire and Harrogate Health and Care Partnership, launched in March 2019 and has inspired hundreds of people to engage in positive action and neighbourly activity across the whole area. Over 350 organisations and community champions have signed up to back the campaign, promoting its message throughout their organisations and within their communities.
The campaign has also received attention on social media, with the hashtag #OurNeighbours being used over 1,000 times. In addition to over 35,000 helpful neighbour packs distributed, a further 600 people have downloaded a digital version of the pack from the campaign website.
Steve Russell, Chief Executive of Harrogate and District NHS Foundation Trust, said: "We're proud to continue our support for the campaign, which provides an important message for us all. It's brilliant to see that so many people and organisations have signed up to and are so positively engaged in the campaign so far. Acts of kindness can have a huge impact and it doesn't take much to make someone feel they aren't alone."
Amanda Bloor, Chief Officer for North Yorkshire Clinical Commissioning Groups (NHS Hambleton Richmondshire and Whitby CCG, NHS Harrogate and Rural District CCG, NHS Scarborough Ryedale CCG), said: "Harrogate and Rural District Clinical Commissioning Group welcomes the opportunity to be part of this great work. We know that loneliness can have a negative impact on people's health. Providing tools to help address social isolation within communities could, in some instances, prevent poor health from developing and enable people to live better. We give the campaign our full support and encourage others to do so as well."
Kim Leadbeater, sister of the late Jo Cox MP and Ambassador for The Jo Cox Foundation, said: "I feel passionately about creating well-connected communities where everyone is happy and healthy and has a sense of identity and belonging. It's wonderful to know that some of the connections being made through the 'Looking out for our neighbours' campaign can be continued as part of The Great Get Together, which takes place on the weekend of Jo's birthday in June. I believe if we all work together to prevent loneliness and its associated health risks, we can have a positive impact on the wellbeing of everyone."
To download a helpful neighbour pack or find out more about the 'Looking out for our neighbours' campaign, visit: www.ourneighbours.org.uk/resources. Search #OurNeighbours on social media to see the positive difference the campaign is making across the area.