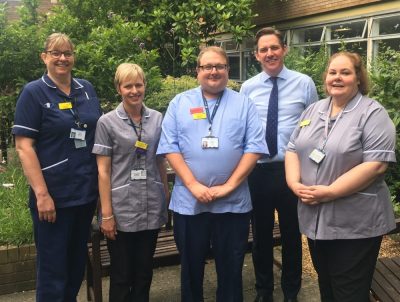 A programme involving Harrogate and District NHS Foundation Trust to drive forward improvements for patients having hip and knee replacements has won a top national award.
The unique collaborative QIST (Quality Improvement for Surgical Teams) aims to reduce infection rates from MSSA (Methicillin Sensitive Staphylococcus Aureus) for patients undergoing joint replacement surgery, and was named 'Infection Prevention and Control Initiative of the Year' at the 2019 HSJ Patient Safety Awards.
The Trust is one of 30 organisations involved in QIST, which is scaling up interventions such as screening and the use of bodywash and nasal gel treatments for patients carrying the bug, to reduce infections and improve lives. By working together, more than 16,000 patients across the country have received an effective patient safety intervention – and the programme has not yet finished.
MSSA is a common cause of infection in joint replacement surgery. Research has shown that interventions – such as decolonisation using nasal gel and body washes – can reduce the risk of infection from MSSA by 60 per cent in some cases.
These interventions have already been tested by Northumbria Healthcare NHS Foundation Trust which has adapted an MSSA 'care bundle' or 'checklist' to meet the needs of patients having joint replacement surgery.
Mr David Duffy, Consultant in Trauma and Orthopaedics with Harrogate and District NHS Foundation Trust, said: "We are delighted that this unique programme in which we are involved has won a national award.
"It is an honour to be part of this project working with our colleagues across the country. These interventions are helping us to improve care for our patients and support further adoption across the NHS so many more patients can benefit in the future too.
"Infections can be devastating and life changing for any patient and their loved ones, and by joining forces and working collaboratively we can make a difference to patients here and elsewhere."
Clinical Director for Trauma and Orthopaedics at Northumbria Healthcare and Chief Investigator for the QIST: Infection collaborative, Professor Mike Reed, said: "I am delighted that this project involving 30 organisations across the country has been recognised on the national stage – this would not have been possible without the hard work of everyone involved across the country.
"The overall ambition of this collaborative is to prove the case that we can successfully introduce these interventions and improve care for patients having joint replacement surgery so that they become routine clinical practice across the NHS.
"By working collaboratively and sharing best practice, I strongly believe we can make a real impact to patients across the NHS."
The project is part of the Quality Improvement for Surgical Teams (QIST) collaborative which was established by Northumbria Healthcare NHS Foundation Trust in 2013. QIST: Infection is a partnership between Northumbria Healthcare, the British Orthopaedic Association, the University of York Trials Unit and NHS Improvement.