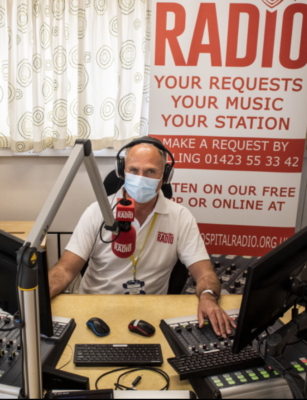 As part of Volunteers' Week, we're highlighting the work of our member stations and their volunteers. Mark Oldfield, from Harrogate Hospital Radio, shares his -experiences of volunteering during the pandemic.
My experience being a volunteer has been a lifesaver in many ways. When the pandemic first started I was furloughed from my day job as business development manager for a lighting manufacturer covering many parts of Europe. Of course this all stopped and still has to date.
I took advantage of the situation and took over complete running of Harrogate Hospital Radio. This was for a good 3 months.
I presented as many live shows as I could including a children's ward show especially for the Woodlands ward at HDH along with our evening request show.
I visited as many wards and departments as I was allowed to to tune our WiFi radios into HHR that I delivered to wards and departments so people could listen to HHR I also collected requests and dedications.
I did this until the trust allowed other presenters back to our studios under strict social distance conditions.
HHR were very lucky to be given a grant from the Freemasons to buy Cleanfeed equipment to enable vulnerable presenters to broadcast from home.
I mainly drove the desk and produced many shows which I thoroughly enjoyed.
In June 2020 the Government ordered compulsory wearing of face masks and therefore Harrogate District Foundation Trust needed volunteers to 'man' the mask station.
Along with running HHR I undertook a role on the mask station until the 30th April when I was allowed to go back to my office to work.
Over the year I have met and become friends with some incredible people including patients, visitors, and more importantly staff at HDFT.
My relationship with the trust at HDFT has grown beyond my expectations and together we have built an very strong and loyal band of listeners to HHR during the pandemic.
For me in retrospect the pandemic has been an incredible experience. I totally believe volunteering at the trust and being chairman of Harrogate Hospital Radio has had a massive impact on my mental well-being. Had I not been volunteering I truly believe my mental well-being would have suffered in a negative way.
Volunteering is one of my best and most rewarding time of my life.
Thank you for giving me the opportunity to tell others about my experience.