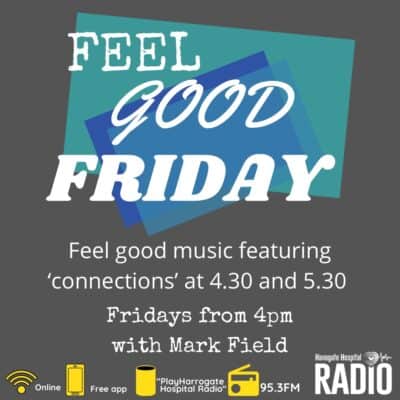 After 9 years of presenting 'Feel Good Friday' Mark Field hands over the reins on Friday June 3rd to our latest presenter to join Harrogate Hospital Radio, Barb Nixon.
Mark said "After 9 years of presenting  the Friday afternoon slot 4-6 pm it is time for a new presenter and new features on Feel Good Friday".
Mark started the time slot 9 years ago with a show called 'Connections' then after 2 years he decided to give the show a revamp and called it 'Feel Good Friday' he kept 'Connections' as a regular feature albeit a much shorter version playing only 3 songs in the feature as apposed to a full hour of the same connection.
Mark will still be presenting his Saturday morning show, The Saturday Morning Music Zone, so don't worry he isn't going anywhere!. Mark also hinted 'Connections' may make a comeback at a new time slot in the near future – Watch this space!.