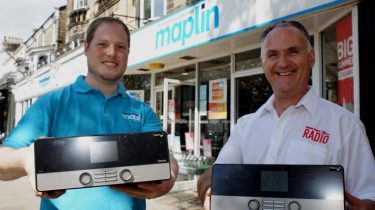 Visitors and patients to Harrogate District Hospital can now listen to the in-house radio station beyond the wards, thanks to a generous donation from Maplin.
The Harrogate branch of the electronics specialist store, located on West Park, has presented two internet radios to Harrogate Hospital Radio to help expand the charity broadcaster's coverage and audience.
Harrogate Hospital Radio has provided radio broadcasting to patients for over 39 years and, since 2015, can be listened to online.
Maplin Harrogate Store Manager John Gill said:
"At Maplin, we are always keen to help the community and are delighted to be able to help such a fantastic group of volunteers, who dedicate so much time in helping and entertaining the people at Harrogate Hospital via Harrogate Hospital Radio."
Mark Oldfield, Harrogate Hospital Radio chairman, said:
"We want to entertain everyone in the hospital, whether patients or visitors.
"Maplin's kind donation of these top of the range internet radios will help us reach even more people in the hospital community."
"We rely on monetary support via our own fundraising efforts, so having these radios donated is a great gift for the future of the station."
"Thanks must go to Maplin for being so generous, and this will enable us to entertain those who need it the most."
Since its foundation in 1977, Harrogate Hospital Radio has provided entertainment to patients and staff with a wide range of shows, requests and music.
Broadcasting 24 hours a day, seven days a week, the radio station's long years of service has been down to the tireless efforts of volunteers and the help of local businesses and organistions such as Maplin's.
Next year the radio station will be celebrating its 40th anniversary, and this donation, as well as new internet links and online radio, has helped the station evolve with changing technology and media.