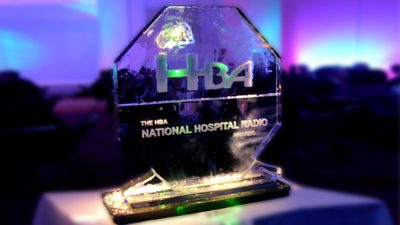 Harrogate Hospital Radio has started 2018 in style with a "handful" of nominations in this year's national Hospital Radio Awards.
The charity, which is celebrating 40 years of broadcasting from within Harrogate District Hospital, has been shortlisted in no fewer than five categories, including Station of the Year.
The other four nominations are: Best Female Presenter – Ellie Jackson, Best Male Presenter – Mark Field, Best Newcomer – Jonathan Tullet, Best Show with Multiple Presenters – Steve Pexton and Anne Kilroy, and Station of the Year.
For Ellie Jackson, this is the eighth time in the nine years that she has been shortlisted for best female presenter. Last year she won Bronze!
Harrogate Hospital Radio Chairman Mark Oldfield, who is nominated under his "stage name" Mark Field, said: "This is a fantastic start to 2018, particularly as we are still celebrating our fortieth anniversary.
"Being shortlisted in five categories demonstrates the quality of presenters we have at Harrogate Hospital Radio.
"I'm incredibly proud of the work we do and the service we provide to the patients, their families and friends."
He added: "Harrogate Hospital Radio has come an awful long way since its first broadcast in October 1977.
"We have superb facilities, a dedicated team of volunteers, and we are now broadcasting more live shows than ever before, including increasing outside broadcasts.
"We will certainly be keeping our fingers firmly crossed ahead of the awards ceremony in March."
The National Hospital Radio Awards will be held on Saturday, March 24 at the De Vere Beaumont Estate, Windsor.