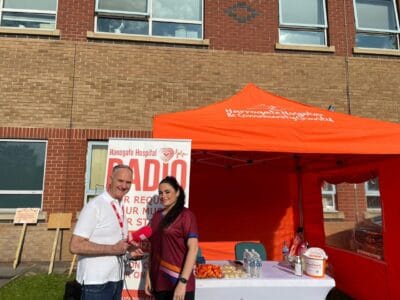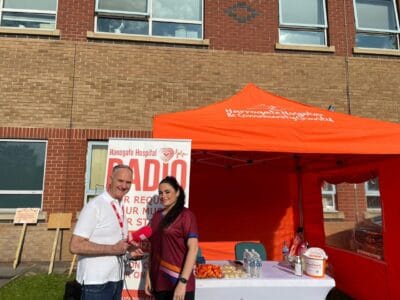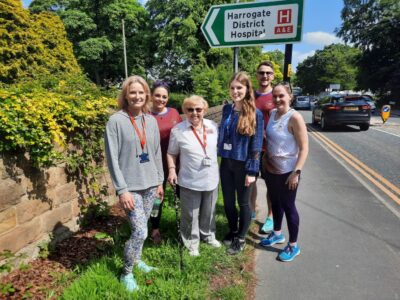 *Sammy Lambert & Mark Field at the start of the stepathon
*Ann Kilroy taking part of the stepathon with some HHCC staff.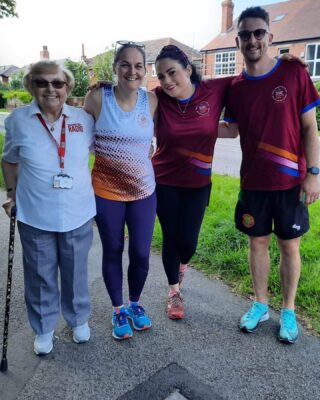 *Ann Kilroy, Yvonne Campbell, Sammy Lambert and Dan Thirkell
*Georgia Hudson preparing for the day ahead.
Harrogate Hospital Radio took part in the 12 hour stepathon as part of volunteer week around the perimeter of the hospital with members of HHCC.
HHR members, Mark Field, Daniel Wilson, Ollie Thomas, Barb Nixon, Gaia Ottman, Tim Waldon, Ann Kilroy, Ray Milligan  and Steve Pexton all took part in the stepathon.
Harrogate Hospital Radio broadcast live throughout the day  starting at 10.00am with Ray & Ally.  Daniel Wilson and Ollie Thomas and Barb Nixon took over at 1.00pm followed by Gaia Ottman at 4pm and Jonathan Tullett at 6pm.
HHR played over 40 requests throughout  the day from visitors and staff who stopped off to say hello at the gazebo at the front of the hospital.
CONGRATULATIONS to Ray Milligan, who smashed the circuit (0.8 miles) in 9.00 minutes.
Overall, all volunteers and HHCC staff collectively achieved over 190 miles from 8am – 8pm. The weather was very kind to us and we ALL had so much fun. Thank you to everyone who took part in making the day a huge success.