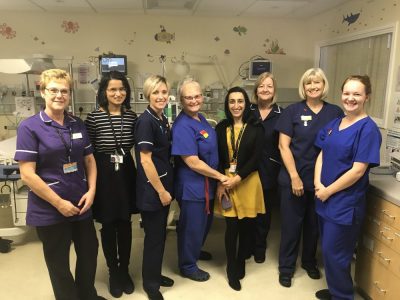 Harrogate District Hospital's Special Care Baby Unit (SCBU) has successfully been reaccredited as Unicef Baby Friendly, with new mums saying that staff are kind and considerate, and all mums saying they were very happy with the level of care provided.
The Baby Friendly Initiative, set up by UNICEF and the World Health Organization, is a global programme which provides a practical and effective way for health services to improve the care provided for mothers and babies. It is based on a comprehensive set of standards designed to provide parents with the best possible care to build close and loving relationships with their baby, and to feed their baby in ways which will support optimum health and development.
The Special Care Baby Unit looks after babies that are born from 32 weeks gestation to term. There are seven special care cots, providing short and medium term care for sick and preterm infants, and one intensive care cot. The unit is well serviced with specialised equipment and expertise to provide care for babies who require specialised nursing. There are two parent bedrooms with kitchen and bathroom facilities.
There is also a dedicated breastfeeding room. Breast pumps are available for use on the Unit and may be able to be borrowed for use at home while the baby remains on the Unit.
SCBU's accreditation demonstrates the unit's commitment to providing the highest quality care for the hospital's youngest patients and their families.
To meet the standard, SCBU was judged against a set of criteria including supporting parents to have a close and loving relationship with their baby; enabling babies to receive breastmilk and to breastfeed when possible; and to value parents as partners in care. These standards are independently assessed by Unicef.
Julie Walker, Matron for Paediatric Services at Harrogate District Hospital, said: "I'm so proud of my colleagues in the Special Care Baby Unit. This reaccreditation is entirely due to their hard work and dedication to providing the best possible care for new arrivals, mums and their families. So much work goes into this achievement.
"The Unicef inspector said she's seen a significant difference since her last visit two years ago and is encouraging us to go further. All the team should feel immensely proud of the work they have achieved.
"The award give assurance to mums-to-be that we are completely focused on providing high quality care. Thank you to colleagues, and to mums and their families, for their part in these achievements. The challenge now is to continue our efforts, keep innovating and do even more for our families."