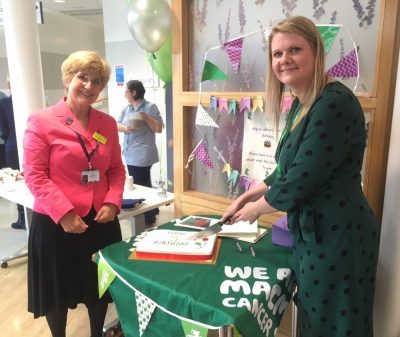 The Sir Robert Ogden Macmillan Cancer Centre at Harrogate District Hospital is marking its fifth anniversary since it first opened its doors to patients.
Staff, along with current and former patients and representatives from organisations including Macmillan, joined together to mark the occasion with a ceremony and tea party at the Centre – which has been providing first class cancer care to patients across the Harrogate district since 2014.
The £8 million Sir Robert Ogden Macmillan Centre opened in March 2014, and was funded by Sir Robert Ogden, Macmillan Cancer Support and Harrogate and District NHS Foundation Trust. Building work started on the Centre in autumn 2012 on the grounds of a car park on the Harrogate District Hospital site. As part of the Sir Robert Ogden Macmillan Centre's build, a multi-story car park was also built on the Harrogate District Hospital site.
In February 2016, the Centre was visited by The Prince of Wales and Duchess of Cornwall, Patrons of Macmillan, on a visit to Harrogate. They met and chatted with patients and staff and were given a tour of the Centre.
Due to the nature of the care the Centre provides, it receives regular gestures of goodwill and words of thanks from those who have visited as a patient or a family and friend. This highlights the high standard of care provided by the Centre's staff.
Sarah Grant, Macmillan Patient Information and Health and Wellbeing Manager in the Sir Robert Ogden Macmillan Centre, said: "Cancer has a big impact on the lives of patients and their families and friends, and it is incredibly important that we recognise what the Centre means and has meant to so many people across the Harrogate district in the five years since its opening. Thank you to all of the colleagues who have worked at the centre during these first five years – for always providing the best quality of care they can for the patients that we see."
Speaking at the ceremony, Angela Schofield, Chairman of Harrogate and District NHS Foundation Trust, said: "We are incredibly proud of our Sir Robert Ogden Macmillan Centre, and the services it provides to our patients. Centre staff understand the individual needs of our patients, and provide the highest quality treatments in excellent facilities."
Paul McCavana, Head of Services (North of England), Macmillan Cancer Support, said: "Every year around 10,000 people in North and East Yorkshire hear the news that they have cancer. It can affect anyone, and receiving a cancer diagnosis can turn life upside in a single moment so it's really important that we celebrate the great work of the Sir Robert Ogden Macmillan Centre over the last five years to help everyone with cancer locally to live life as fully as they can. Cancer can affect every part of your life, not just your health, and here at the Centre, we're right there with patients to support all their financial, physical and emotional needs."
A commemorative book will be in place in the Centre's Foyer throughout 2019 for members of the public to sign with any memories or stories they have of the Centre during its first five years.