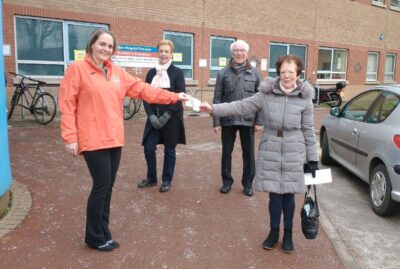 Pine Street Allotments in Harrogate has faced up to the challenges brought on by the Covid-19 pandemic to raise £1,125 for Harrogate Hospital & Community Charity.
After the traditional open day at the height of the growing season was cancelled due to the pandemic, produce including onions, cauliflower, raspberries and rhubarb was sold over several weekends to plot holders and their families and friends. This raised £1,125 for the charity, which supports Harrogate and District NHS Foundation Trust (HDFT).
Usually, Pine Street Allotments holds its open day at the height of the growing season to sell plot holders' hand-grown produce to the general public in order to raise money for local charities. This year, Harrogate Hospital & Community Charity (HHCC) was chosen to be the main beneficiary of the event.
Pine Street Allotments is one of several allotment sites in the Harrogate area and consists of over 100 individual plots lovingly tended by local people keen to produce their own fruit, vegetables and flowers.
The site is managed by a committee of volunteers who chose the local NHS trust to donate to this year after all they have done to support the community through difficult times.
David Archbold, a spokesperson for the committee said: "Despite the added challenges we faced this year, we were so pleased that we managed to raise such a magnificent sum for a very worthy cause at a difficult time for everyone."
Georgia Hudson, Community and Events Fundraiser for HHCC, said: "We are incredibly grateful to Pine Street Allotments for the hard work growing and selling their produce over a prolonged period, after the Open Day was cancelled.
"The money raised will provide HDFT with more opportunities to go above and beyond the care it provides to local communities and will ensure those accessing services at the Trust receive the highest possible care.
"Thanks to fundraisers such as Pine Street Allotments we have recently been able to purchase electronic tablets for patients staying on wards to stay in touch with their loved ones via video calls. This has become especially important now that visiting has once again been reduced at Harrogate District Hospital."