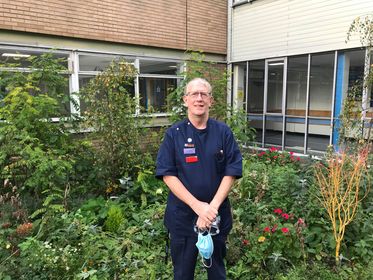 A Harrogate Charge Nurse and armed forces veteran is supporting a national drive to understand more about how the NHS can improve health and wellbeing support for serving, reserve and veteran families in England.
John Williams, Charge Nurse on the Combined Assessment Team at Harrogate and District NHS Foundation Trust, is supporting this research as a veteran who served in both the Falklands War and the Gulf War.
Whilst most armed forces families enjoy healthy lives, the unique circumstances of military life, such as moving home every few years, can make accessing the NHS difficult and create added pressure for some.
The NHS is hoping to improve its services so that armed forces families are able to access support more easily across England. As well as this, it aims to ensure that those families caring for individuals injured in service get the care and support they need from clinicians and people who understand the armed forces.
John said: "I spent 10 years serving my country, saw active service in the Falklands in 1982 and was called up for the Gulf War in 1991. I was fortunate and came through the conflict without injury, however many of my comrades were not so fortunate. I think it is incumbent upon the NHS to recognise the sacrifices made by serving personnel and veterans and afford them prompt assessment and treatment.
"I have had occasion to seek NHS treatment as a result of hard physical training and exercises during my service. This has been recognised by clinicians and my treatment tailored to my needs. I believe that the NHS, as an all-inclusive organisation, believes in the service men and women who have served their country and should afford them the assessment and treatment that they deserve in a timely manner."
Anyone can share their views, however the NHS is particularly keen to hear from serving, reserve and veteran families, people who are serving in or who have served in the British armed forces (regular and reserves) and organisations working with or supporting the armed forces community.
To find out more, and to get involved, please visit: https://www.engage.england.nhs.uk/survey/health-and-wellbeing-support-armed-forces-families/. The deadline for responding is 30 November 2020.