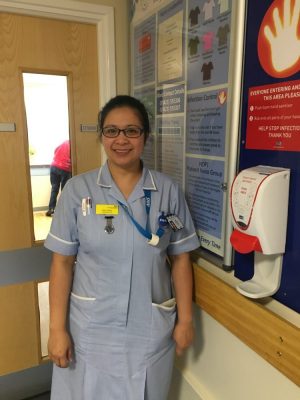 A Harrogate nurse who found her "perfect role" through a Harrogate NHS trust recruitment event is encouraging prospective nurses to come along to the Trust's next event later this month.
Mae Hartley joined Harrogate and District NHS Foundation Trust as a qualified Staff Nurse in September 2018, after attending a previous recruitment event in August 2017 while a student nurse at the University of Bradford. Mae spent time with the Trust on a placement, and once qualified, found the "perfect role" on the Medical Admissions Unit (MAU) at Harrogate District Hospital as a Staff Nurse.
Mae is now encouraging prospective nurses to come along to the Trust's next nursing recruitment event, which takes place on Wednesday 22 May, 5-7pm at Harrogate District Hospital. The event will offer a chance to speak with the Trust's senior nursing team and nursing colleagues about the career opportunities on offer, an overview of the Two Year Preceptorship Programme and interviews. All with the chance to walk away with a conditional job offer on the day.
One of the main reasons Mae chose a career with the Trust was for its Two Year Preceptorship Programme – a protected two-year programme that focuses on the achievement of clinical and professional competence and is designed to meet the specific needs of the preceptee. All newly qualified nurses are allocated two preceptors, one being an experienced practitioner and the other a nurse who has recently been through the Trust's Preceptorship Programme. Together they work alongside the Practice Educators to guide and support the preceptee offering extra support.
Mae said: "Before I attended the recruitment event, I had Harrogate and District NHS Foundation Trust in mind. However, after learning about the Preceptorship Programme and the more I got to know about the Trust during my placement while studying – I decided that working here would be the perfect role."
Asked what her advice would be for prospective nurses who may be considering a career with the Trust, Mae said: "Gather as much information as you can – because the support I receive from the practice educators and on the ward is fantastic, and staff are so friendly. I would not have found any of this out if I had not attended a recruitment event. Come along to our next nursing recruitment event and find out more."
Mae has quickly settled into her role, even winning one of the Trust's Making a Difference recognition awards after being nominated by a patient for her caring, professional and respectful approach to patient care.
Interview slots ahead of the recruitment event can be booked in advance until 16 May at: https://www.jobs.nhs.uk/xi/vacancy/?vac_ref=915553133, but an interview is not required to attend the event. To find out more about the Recruitment Open Event or ask a question, email careers@hdft.nhs.uk.