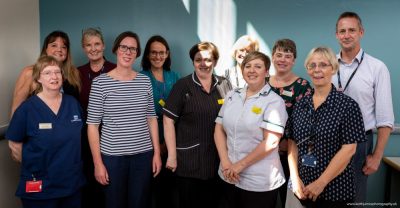 The long-service of staff has been celebrated in style with a tea party as part of Harrogate and District NHS Foundation Trust's annual Long Service Awards.
Chairman Angela Schofield and Chief Executive Steve Russell, as well as other members of the Trust's Executive Team, joined long-serving members of NHS staff at the Trust to celebrate their many years of service and achievements. Members of staff were awarded for their outstanding service to the NHS in five separate categories; 25, 30, 35, 40 years, as well as a special 50 years of service award for recently retired Emergency Department Nurse Monica Sharpe.
Monica retired earlier this month after caring for North Yorkshire patients for a huge half-a-century. Find out more about Monica's story: https://www.hdft.nhs.uk/news/farewell-to-monica/.
As well as the awards, a vintage tea party took place, with traditional afternoon tea served to guests in the ceremony at Harrogate District Hospital. As part of the Long Service Awards, 60 members of staff received awards for 25 years of service, 55 for 30 years, 41 for 35 years, 16 for 40 years and one for 50 years.
Harrogate and District NHS Foundation Trust Chairman Angela Schofield said: "Congratulations to all of our long-serving staff who are celebrating their huge milestones and many years of service to the NHS.
"We are delighted to have presented colleagues with awards for 25, 30, 35, 40 and 50 years of service. The Trust and the NHS as a whole could not survive without its wonderful staff, and our Long Service Awards provide them with an opportunity to look back on their many years of fantastic service with fondness."
One member of staff who received an award for her 40 years of outstanding service is Philippa Kirkpatrick, a Sonographer in the Trust's Radiology Department. She said: "I've really enjoyed my NHS career and can't believe it's been 40 years. I feel very proud to have been awarded a Long Service Award by the Trust for my career."