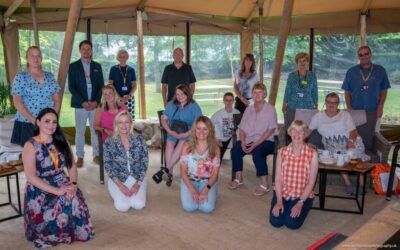 The Covid-19 pandemic thoughts, experiences, anecdotes and photos of local people from the past year are wanted for a new 'Focus on the Good' book being created to raise much-needed funds for Harrogate Hospital & Community Charity (HHCC).
HHCC is the hospital charity for Harrogate and District NHS Foundation Trust, and they have specially commissioned a book called 'Focus on the Good' and anyone is welcome to contribute, be they NHS staff, volunteers, patients, service users, families and members of the community.
HHCC are interested in hearing experiences of the last year; what have you missed? What were your biggest challenges? What have you appreciated the most about this time? If you have visited Harrogate District Hospital or used a HDFT service, how was your experience? Have you or a loved one experienced Covid-19? What would your message be to NHS staff? How did your community pull together? What do you remember about the doorstep claps?
Did you get involved in supporting your local NHS, perhaps you donated hand cream to NHS staff, took part in fundraising, made scrubs, or had your photograph taken as part of 'The Doorstep Portraits Project for Harrogate Hospital'? Share your photographs from this last year, why did you take them, what do they mean to you?
From the information submitted, HHCC will work collaboratively with author Leah Knight to develop a book 'Focus on the Good' – to not only remember how Covid-19 affected individuals, but how communities, NHS staff, volunteers and families came together to support each other and those in the NHS in a time of need.
If you would like to contribute please download a Focus on the Good template on HHCC's website here: https://hhcc.co.uk/events/focus-on-the-good-book/. Alternatively, to submit your contribution please contact the team by email hdft.hhcc@nhs.net or call 01423 557408.
Sammy Lambert, Business Development, Charity and Volunteer Manager for HHCC, said: "We want to be able to remember these unprecedented times especially what was gained and not just lost throughout the past year. This is an incredible opportunity for our supporters to share their own unique experience. The aim of the book is to create a keepsake of a challenging time and provide an opportunity to look back in many years to come and reflect on how we all came together as a community during some of the darkest times."
Leah Knight said: "I feel so privileged to write this book. To document the resilience, the compassion and the undeniable ability the NHS has to wrap their arms around us when we need them to most. I hope to deliver the stories just as they deserve to be told, with positivity and hope. Through poetry, I will write my book which will encourage you, the reader, to look back on 2020 and 'Focus on the good'. I cannot wait to share it."
'Focus on the Good' book will be available later this year with all proceeds from the donations received enabling HHCC to continue to make life-changing differences for the staff, patients, service users and families in hospital and the wider community across HDFT.
Submissions close on Friday 30 April 2021.