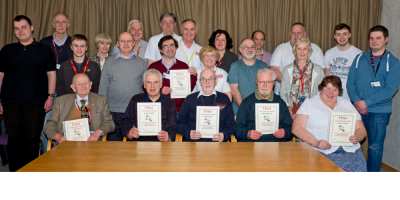 If it wasn't for our fantastic volunteers we would probably have gone off the air decades ago.
But unlike many charities, we don't have the luxury of paid members of staff – we are totally run by volunteers. And all those involved in Harrogate Hospital Radio do so because they want to. Volunteers are the backbone of this country, and without this band of men and women, of all ages and from all walks of life, it would be a much poorer place.
Harrogate Hospital Radio started life in October 1977, and has been going strong ever since. Our members take on a variety of roles, from front-line duties such as the all-important request collector, through to the presenters who play those requests, and those who calmly work behind the scenes ensuring the wheels of the station are oiled and running smoothly. Without all of them we simply couldn't function.
Harrogate Hospital Radio appeals to a wide of volunteers – from the younger element perhaps looking for a career in broadcasting and the wider media, to those who love the interaction with patients, their friends and family members, as well as the wonderful staff, be it front line doctors and nurses to ports, secretaries and cleaners.
Many of our volunteers have been a part of Harrogate Hospital Radio for many years. In fact our longest serving member joined six months after we first took to the air. We also have members who have been with us a matter of weeks, but are already making their mark.
We don't have any rules or regulations about how many hours you have to give. A couple a month is better than none at all. But as we are self-funded – and need in excess of £6000 a year just to stand still – we do ask our members to help in fund-raising activities.
If you are an extrovert or an introvert, it matters not. But if you want to be part of a great organisation, one that is highly thought of, look no further than Harrogate Hospital Radio.
To find out more about us, please visit our website at https://www.harrogatehospitalradio.org.uk/