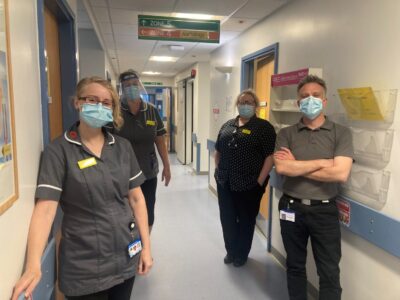 Following a necessary change of practice as a reaction to the Covid-19 pandemic and how well that's been received by patients, the Audiology department at Harrogate District Hospital will not be reverting back to walk-in hearing aid repair clinics.
This walk-in service will not be available, even after the planned easing of restrictions from 21 June 2021 onwards.
Patients are asked to continue to use the postal service to order batteries and/or tubing or have aids repaired or replaced wherever possible. Please call 01423 553320 or email hdft.audiology.dept@nhs.net to contact the team if support is required.
The team have had this arrangement in place for many years in Ripon, York and Scarborough and this brings Harrogate into line with the wider service.
If the team are unable to resolve an issue by phone/post/email then a short repair appointment will be offered. This must be a booked appointment – unfortunately anyone who chooses to attend without a booked appointment will not be able to be seen.
Christine Brindle, Lead/Specialist Audiologist, said: "The Covid-19 pandemic meant we had to change our working practices for the walk-in hearing aid repair clinic because we couldn't see people face-to-face. This change has actually been well-received by the majority of patients.
"We've chosen to move in line with our wider service across the county and switch to a postal service first and foremost. This helps reduce the number of people coming into the hospital who don't have to – before the pandemic we'd often see queues of 30 to 40 people, which isn't now appropriate. It also means patients don't have to make the journey to come in.
"We do ask that people who use our hearing aid repair clinic use the postal service available, first calling us or emailing us to make arrangements. We are now unable to see walk-ins. Thank you for your understanding."