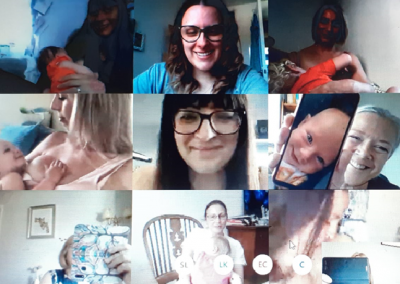 On Friday 31 July, Harrogate and District NHS Foundation Trust's (HDFT) Infant Feeding Teams took part in The Global Big Latch On, a worldwide event where mums come together to breastfeed and offer peer support to each other.
The event fell just before World Breastfeeding Week (3-9 August).
Mums supported by HDFT Infant Feeding Teams from County Durham, Stockton-on-Tees, Darlington, Sunderland and Harrogate District took part, with 25 mums simultaneously breastfeeding when the count took place at 10.30am. This was added to the global total which reached 4,486.
It was the first year that Infant Feeding Leads from across the HDFT community footprint collaborated for the event.
Jessica Young, Specialist Infant Feeding Practitioner for County Durham, said: "We were able to use the event for mums to meet each other and have discussions between themselves, as well as access advice from staff from the Infant Feeding Teams across the whole footprint, who all joined throughout the call.
"Despite the event being virtual and not our normal face-to-face event, we were really pleased with the attendance. Mums turned up showing passion, enthusiasm and excitement which is why we put on the event every year.
"Our aim is to normalise breastfeeding, especially in public, and this event allows us to do so."