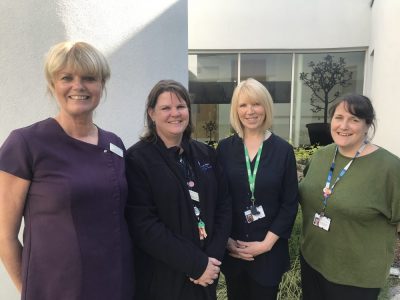 Thursday 6 June 2019
UK's only NHS-approved complementary therapies training school celebrates first year
The only training school in the UK approved by an NHS trust to offer complementary therapy courses to help people with a diagnosis of cancer is celebrating its first successful year with more than 140 students from across the country enrolling on courses.
NHS Natural Health School is based at Harrogate District Hospital's Sir Robert Ogden Macmillan Centre, and provides a range of courses at different grades and for different levels of experience.
The School is committed to training the 'Next Generation of Complementary Therapy Experts' able to meet the complex needs of an increasing number of patients; by 2030 it is expected one in two of us will have/had a diagnosis of cancer (Macmillan Cancer Support 2018).
The School was created in response to mainstream or conventional complementary therapy services frequently being unavailable to cancer patients due to the stigma associated with their condition. Very few places in the UK will provide complementary therapy treatments for people with cancer, yet the physical and emotional benefits can be huge.
Courses range from Level 3 ITEC diploma courses in Reflexology, Aromatherapy and Holistic Massage. The core skills taught are not specific to patients with cancer, and can be applied to any person wishing to have that treatment. The school also offers Continuing Professional Development and short courses in Cancer and Palliative Care, Daoyin Tao (a unique blend of Chinese acupressure and Western massage techniques), Pain Management, the Bowen Technique, (a form of massage) and Self-Care to name but a few.
A unique 'NHS Certificate in Complementary Therapies' has also been created for Complementary Therapists qualified at Level 3 who wish to develop their skills and practice with cancer patients to the standards required by NHS organisations. This course focuses on clinical governance and the mandatory training required to work safely in a clinical environment. Unlike any other training currently available, students are required to achieve set competencies during 100 hours of clinically supervised practice within healthcare settings. There are also assignments for delegates to complete outside of the classroom.
Full details of the courses offered by the NHS Natural Health School can be found by visiting nhsnaturalhealthschool.co.uk.
Sarah Grant, who manages and administers the NHS Natural Health School, said: "We are delighted to be celebrating our first birthday. It's been so pleasing to see how well-received the school has been, and how much of a buzz there has been around it, especially with winning a number of National Professional Awards.
"We're thrilled at the interest from people from across the country who've booked onto courses, all with the same aim of doing all we can to make the experience of patients with cancer the best it can be. We care for patients with cancer day in, day out, and we know how much of a positive difference complementary therapies can make at such a very tough time.
"Complementary Therapies are more widely known and accepted throughout the UK than ever before. Our courses are for anyone with a desire to use complementary therapies in a safe, skilled and competent way. We know from our evidence therapies can help to alleviate pain, reduce stress and combat anxiety. We also know that during these treatments patients do talk openly and candidly about their own challenges.
"Courses fill up fast so if you're interested, visit our website and get booked on a course as soon as possible."
Courses are delivered in clinical areas at Harrogate District Hospital, as well as in community locations including Rudding Park Hotel and Spa near Harrogate, and the Granby Nursing Home, Harrogate.