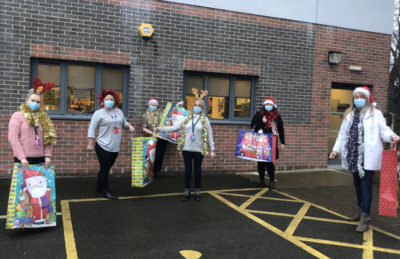 Growing Healthy teams from County Durham, Gateshead, Sunderland and Darlington have come together (virtually) to share their adaptation of the classic Christmas song, reworked to describe different elements of the Growing Healthy services which support children, young people and families across the region.
The individuals and teams involved have recorded themselves singing the festive tune in tinsel and Santa hats and compiled the clips together to create the special Christmas video.
The idea came from the Emotional Resilience Team in County Durham, which was established in November this year as part of the new Growing Healthy County Durham 0-25 service launched on 1 September.
Since then, they have been working exceptionally hard to improve the emotional support on offer for children, young people and families across County Durham in what has been a difficult year for all. They have been working largely around bereavement and loss as well as returning to school, which has presented challenges for many young people recently.
Establishing these services in the midst of the Covid-19 pandemic meant the team needed to adapt their ways of engaging with those in need. As a result, they have delivered virtual sessions to schools, held online events, and offered support via WhatsApp and video call, as well as their usual face-to-face appointments.
Emotional Resilience Nurse and Digital Lead for the service, Hayley Agnew, came up with the idea for the Growing Healthy version of The 12 Days of Christmas. She said: "We have worked so hard to set up the Emotional Resilience team in County Durham over the last few months and have seen a real need for the specialist support we offer. The drop-in sessions we have run in secondary schools have been largely full and we have been following up many of our virtual appointments with face-to face ones.
"Everybody on the team wants to make a difference and that's where the drive to provide all the support we can has come from. It's so important we stay connected to the children, young people and families we see which is why we have worked on setting up so many new and virtual means of accessing our services.
"The 12 Days of Christmas is a fun and festive way for us to share some little things about what Growing Healthy services as a whole offer, and is our way of wishing everyone a Merry Christmas."
The Growing Healthy lyrics read:
1. On the 1st day of Christmas, my true love sent to me a nurse from growing healthy
2. On the 2nd day of Christmas, my true love sent to me 2 screeners weighing and a nurse from growing healthy
3. On the 3rd day of Christmas, my true love sent to me 3 health promotions, 2 screeners weighing and a nurse from growing healthy
4. On the 4th day of Christmas, my true love sent to me 4 virtual clinics, 3 health promotions, 2 screeners weighing and a nurse from growing healthy
5. On the 5th day of Christmas, my true love sent to me 5 babies born, 4 virtual clinics, 3 health promotions, 2 screeners weighing and a nurse from growing healthy
6. On the 6th day of Christmas, my true love sent to me 6 toddlers toddling, 5 babies born, 4 virtual clinics, 3 health promotions, 2 screeners weighing and a nurse from growing healthy
7. On the 7th day of Christmas, my true love sent to me 7 mothers pushing, 6 toddlers toddling, 5 babies born, 4 virtual clinics, 3 health promotions, 2 screeners weighing and a nurse from growing healthy
8. On the 8th day of Christmas, my true love sent to me 8 jabs a giving, 7 mothers pushing, 6 toddlers toddling, 5 babies born, 4 virtual clinics, 3 health promotions, 2 screeners weighing and a nurse from growing healthy
9. On the 9th day of Christmas, my true love sent to me 9 fathers feeding, 8 jabs a giving, 7 mothers pushing, 6 toddlers toddling, 5 babies born, 4 virtual clinics, 3 health promotions, 2 screeners weighing and a nurse from growing healthy
10. On the 10th day of Christmas, my true love sent to me 10 routine check-ups, 9 fathers feeding, 8 jabs a giving, 7 mothers pushing, 6 toddlers toddling, 5 babies born, 4 virtual clinics, 3 health promotions, 2 screeners weighing and a nurse from growing healthy
11. On the 11th day of Christmas, my true love sent to me 11 carers caring, 10 routine check-ups, 9 fathers feeding, 8 jabs a giving, 7 mothers pushing, 6 toddlers toddling, 5 babies born, 4 virtual clinics, 3 health promotions, 2 screeners weighing and a nurse from growing healthy
12. On the 12th day of Christmas, my true love sent to me 12 healthy children, 11 carers caring, 10 routine check-ups, 9 fathers feeding, 8 jabs a giving, 7 mothers pushing, 6 toddlers toddling, 5 babies born, 4 virtual clinics, 3 health promotions, 2 screeners weighing and *we all support growing healthy
You can watch the teams' rendition of their 12 Days of Christmas here: http://bit.ly/3nxEaUf