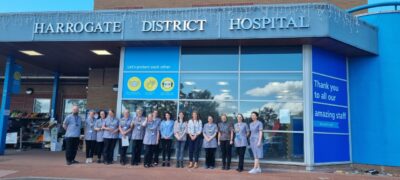 Friday 20th May is International Clinical Trials Day  

                                                                                                                                                                                                                                                                                                                                                                                                                                                                                                                                                                                                                                                                                                Ray Milligan and Research and Innovation Manager, Michelle Platton, were live on Friday morning on Harrogate Hospital Radio 95.3FM, on line on our free app and on Wi-Fi and FM radios in and around the hospital.
As the research team celebrate International Clinical Trials Day (ICTD). Michelle will be talking about research at Harrogate Hospital and beyond, and the difference it can make to patients.
The research team will have stands outside Herriot's at lunchtime and main reception in the afternoon on Friday, and will be available to talk about opportunities for patients and staff to get involved in research.
The team are also running a research quiz, with the opportunity to win afternoon tea at Betty's.
ICTD takes place every year to mark the day that James Lind started one of the first clinical trials recorded in medical science.