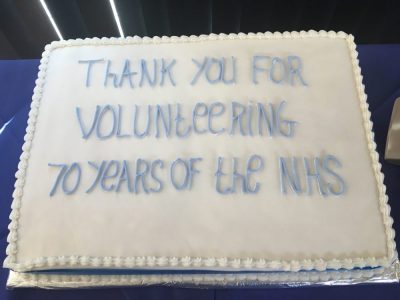 Four Harrogate Hospital Radio presenters – who between them have clocked up a magnificent century with the charity – have been recognised for their dedicated years of voluntary service.
Ian Wighton, Derick England, Phil Browne and James Pollard were presented with their long service awards by Harrogate NHS Trust chiefs at a ceremony held in the town's District Hospital.
Former chairman Ian Wighton joined the charity broadcaster 40 years ago – just six months after its launch in October 1977 – Phil Browne and Derick England both joined 25 years ago, whilst James Pollard became a member in 2008.
Harrogate Hospital Radio Chairman Mark Oldfield said: "My congratulations go to all of our members who have received long service awards from Harrogate Hospitals NHS Trust.
"All of our members give their time freely, and without the dedication of the likes of Ian, Phil, Derick and James, there would be no Harrogate Hospital Radio.
"Compared to these four I'm a relative new comer, and as for Ian, he is a total inspiration to all of us involved with this brilliant radio station.
"Last year we celebrated our 40th anniversary and, over the last four decades, Harrogate Hospital Radio has been an integral part of hospital life.
"We have come an awful long way since our inaugural broadcast in 1977, and we now boast some of the best broadcasting facilities in Yorkshire.
"And thanks to technology we are now not just heard within the confines of the hospital wards, but via our website and app, we can now be listened to around the world."