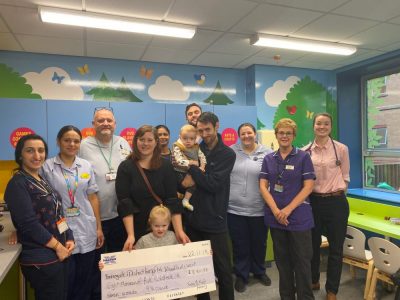 A family's fantastic year of fundraising in aid of Harrogate District Hospital has come to an end with a grand total of £8,500 for a cardiac monitor for Woodlands Children's Ward following care provided to a two-week-old baby with a congenital heart defect.
In 2018, members of the Finan family, from Harrogate, visited Harrogate District Hospital more than they had ever anticipated, some for joyous events and some not. As their family members and friends had been treated in many different wards of the hospital and looked after by its amazing staff, they wanted to give something back.
So over the past year the family and friends have been taking part in a huge series of fundraising events including the Knaresborough Bed Race, half marathons in Sheffield, Leeds and Tyneside, Yorkshire Warrior, the Yorkshire Three Peaks (twice!), It's a Knockout, a Coast-to-Coast bike ride over two days finishing with fish & chips in Bridlington, barbeques, coffee mornings, dance evenings and a sky dive.
The fundraising efforts were prompted by the care provided to Rachel and Aidan's son Finlay McNab. On 6 December 2018, two-week old Finlay was admitted to Woodlands Children's Ward at Harrogate District Hospital with Bronchiolitis and a bacterial chest infection. Although a fairly common winter illness in small children, they discovered that Finlay has a congenital heart defect which made his battle with the virus so much harder to fight.
Finlay was moved to the high dependency room and put on a machine that used pressurised air and oxygen to keep his lungs open. He stayed on the machine for nearly three weeks and was on the critical list for two weeks. On Christmas Eve staff managed to wean him off the oxygen and just had air keeping his lungs open. On Christmas Day Rachel and Aidan could feed and cuddle him and by the evening he was moved out of the high dependency room to a round of applause from the staff on duty.
Rachel said: "We had our baby home for New Year which was wonderful. Throughout the time we spent on the ward every member of staff we encountered was incredible, not only in their professional roles, which saved our son's life, but also with my entire family. They ensured that we were all well informed and put at ease with every decision, they also made provision for our two year old daughter and our 12 year old son to have the best Christmas possible.
"We can't thank everyone enough for saving our sons life and want to give something back to the ward, we are raising funds for a new cardiac monitor which would help many other children in Finlay's situation."
Family member Hannah, and Finlay's aunt, said: "We have been overwhelmed by how generous people have been. Everyone's been wonderful. I think it's really helped that we're fundraising for Harrogate District Hospital – it's a place where people have been for care, or will be there in the future. It's a big part of the town.
"We were originally aiming to raise £5,000, so to get to £8,500 is such a fantastic achievement. Thank you to everyone who has contributed. It means that even more can be done to support patients.
"The biggest challenge we faced was the Yorkshire Three Peaks – which we ended up doing twice! Both times it was typically cold and rainy which added to the challenge! But there have also been warmer, more relaxed activities. Our August Bank Holiday barbecue was on a lovely sunny day and activities such as the dance challenges have been great. Thank you again to everyone who's supported us."
Julie Walker, Matron for Woodlands Ward at Harrogate District Hospital, said: "The Finan family have been amazing with their fundraising over the past year and we're so pleased they've chosen to do so for our benefit and the benefit of future patients. So much effort has gone into this. They have so much to be proud of – a proper family effort."