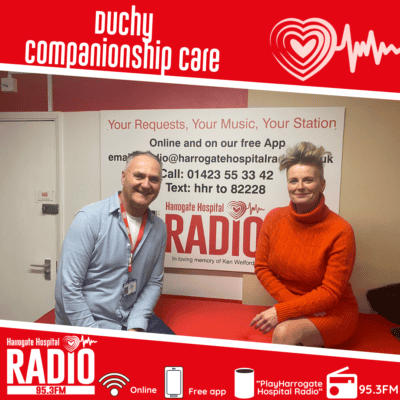 On Saturday 13th November, Mark Field had the pleasure of meeting Alex Reah on his show 'The Saturday Morning Music Zone' on  Harrogate Hospital Radio. Alex is the owner of Duchy Companionship care in Harrogate.
Duchy Companionship Care is run by Alex and her small team.  She and her family have a long and reputable history within the care sector, with a combined experience of nearly 100 years running bespoke nursing homes and providing ahead of their time facilities and luxury care to older people. Alexandra is now running a private companionship care agency providing a flexible, high-end service to help older people maintain their independence in their home by offering everyday support.
What is Companionship Care?
Companionship care helps the social and emotional well-being of those who would otherwise feel isolated or lonely, while easing some of the burden from family members.
In the UK, loneliness affects a lot of people, and it's especially common among persons over 65. Home care is misunderstood by many individuals, who believe it is only necessary when a relative falls, returns home from the hospital, or is not feeling well. Nowadays, home care providers are contacted more frequently and earlier in life as a result of the rising rates of loneliness among older people.
For more information here are the contact details.
Telephone: 01423 438345
Email: info@duchycareharrogate.co.uk
Duchy Care provides high end companionship care, with the main purpose of enabling older people not only to maintain their independence within their home, but to enjoy doing the pleasurable activities that make life worthwhile, with the support provided.