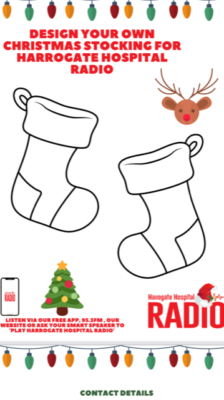 After the success of our 'DESIGN A CHRISTMAS JUMPER' in 2020, this year we are proud to launch our
 'DESIGN A CHRISTMAS STOCKING' COMPETITION.
There are 3 categories
3-5 years old
6-8 years old
9-12 years old
You can download the entry form here:
or ask your teacher for a form.
You can also email
                                                   events@harrogatehospitalradio.org.uk  and we will post you an entry form
                                                                Entries close on FRIDAY DECEMBER 17th AT 17.00hrs.
                                                                                                 GOOD LUCK!