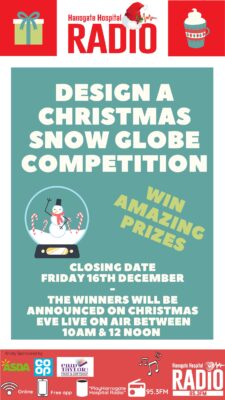 Yes, following the success over the last few years, Harrogate Hospital Radio are delighted to announce this years competition 'DESIGN A CHRISTMAS SNOW GLOBE'.
The categories are
3-5 years old
6-8 years old
9- 12 years old
You can download an entry form here;
Design a Christmas Snow Globe 2022 – Entry Form
The closing date is Friday 16th December.
The winners will be announced LIVE on Christmas eve morning between 10 – 12 noon with Barb Nixon and Daniel Wilson on 95.3FM, on our free APP and on-line.
Good luck, and thank you for supporting Harrogate Hospital Radio
*Thank you to ASDA Harrogate and Co-op Jennyfields for sponsoring the competition.