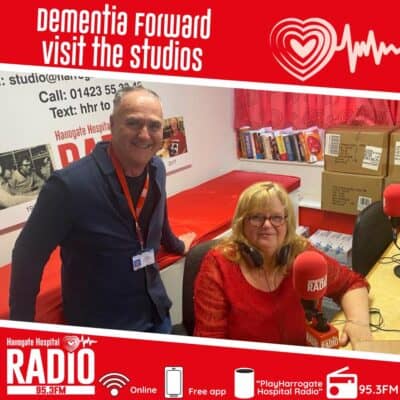 On Saturday 4th November, Mark Field had the pleasure of meeting Jill Quinn, CEO of Dementia Forward who came to visit Harrogate Hospital Radio to tell us all about the work Dementia Forward do and the charity record they have launched.
Dementia Forward is the leading dementia charity for York and North Yorkshire. They provide support, advice and information to anybody affected by dementia across the county and have developed a comprehensive range of services; all with people living with dementia at their heart.
Dementia Forward was formed in April 2012 by an experienced team with a profound understanding of dementia, in response to a growing need for support services within local communities.
Jill told Mark all about the work Dementia forward does, in particular dementia in younger people and how it effects their lives.
On 31st October 2022, Dementia Forward launched the U&ME Campaign with the support of Peter Deaman from Lateral Consultancy, whose close friend of nearly 40 years, Jonathan Beardsworth, is living with young onset dementia. Jonathan was 64 on the 24th October 2022, the day they have chosen to become national Young Onset Dementia Awareness Day; an annual event to highlight the impact of young onset dementia.
This year on YODA Day they launched a U&ME single. The song is written and performed by Yorkshire singer/songwriter Scott Quinn and aims to raise awareness of the growing number of young people facing the devastating impact of the condition.
Follow the link below to listen to the track and learn more about the work Jill and her team do at Dementia Forward.