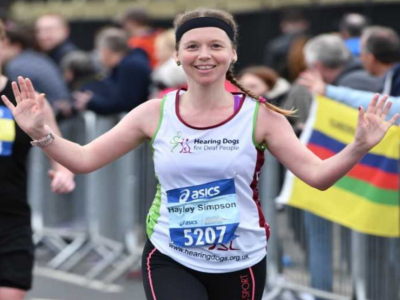 Hayley Simpson, 34, Senior Dog Trainer for national charity Hearing Dogs for Deaf People had hardly run before when in a moment of madness, as she calls it, she got herself a place in the Great North Run 2017, the world's biggest half marathon!
Having worked for Hearing Dogs for Deaf People for over 10 years training dogs and seeing first hand how they change the lives of deaf people she naturally decided to join their running team and raise sponsorship for the charity at the same time. Hayley says "Securing a place in the Great North Run gave me the incentive to train hard and to raise as much as I could in sponsorship. I aimed to raise £250 but amazingly reached over the £1000 mark!"
Like with her work Hayley threw herself wholeheartedly into a Couch to 5km Training Plan and hasn't stopped running since! She went on to successfully complete her Great North Run challenge in September but she didn't stop there! She then moved on to an even bigger challenge and completed the Manchester Marathon in April raising a further £700 in sponsorship for the assistance dog charity.
Could you follow in Hayley's footsteps? Get fit, achieve something amazing and give a deaf person greater independence, companionship and confidence all at the same time?
It's not too late to join the Hearing Dogs Team for this year's Simplyhealth Great North Run held in Newcastle on Sunday 9th September 2018. Hearing Dogs have a number of exclusive Gold Bond places left but they must be filled before the 2nd July deadline.
Lucy Ward Community Fundraising Manager for Hearing Dogs for Deaf People say's "Hayley did an amazing job with her training and fundraising! The Simplyhealth Great North Run is a really inspiring event and there is nothing like a challenge to train for and a good cause to keep you motivated! As a charity we rely on our amazing supporters doing events like this to raise vital funds. We would love to have you on our running team!"
Hearing Dogs support their runners every step of the way, offering fundraising advice before the event, as well as a warm welcome, refreshments and a professional sports massage on the day of the race. Runners are also offered the opportunity to meet a hearing dog on the day and to find out more about the charity and how these amazing dogs are trained by booking a free tour of their training centre in East Yorkshire.
By raising sponsorship you will help to train more amazing Hearing Dogs to alert deaf people to important sounds like the telephone, smoke alarm and doorbell which they would otherwise miss, while also providing confidence and companionship, which can relieve the stress and isolation deafness can bring.
To secure your place in the Simplyhealth Great North Run 2018 before the fast approaching 2 July deadline please contact Gemma Wardle on 0743689253 or email: gemma.wardle@hearingdogs.org.uk