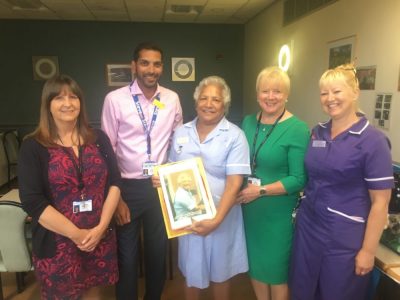 Colleagues at Harrogate District Hospital have wished farewell to a "fantastic" nurse as she retires from the profession after half-a-century of caring for North Yorkshire's patients.
Monica Sharpe, an Emergency Department Nurse, has retired after spending 50 years of caring for patients across four of the Harrogate District's hospitals. She is the Trust's longest serving employee and has worked in a range of nursing roles across the Trust, beginning her career at Harrogate General Hospital but also working at the Royal Bath Hospital, Scotton Banks and to this day, Harrogate District Hospital.
Monica arrived in Harrogate from Trinidad in 1969, aged 21, after responding to an advert for nurses and has worked in the Emergency Department of Harrogate District Hospital for over 20 years. In 2018, Monica celebrated her 70th Birthday alongside the NHS – she was born a day before the service's inception in 1948.
To wish Monica farewell, colleagues threw her a tea party to wish her a happy retirement and celebrate her huge achievement and 50 years' of service. The tea party was attended by Monica's family, former and current colleagues and Harrogate and District NHS Foundation Trust Executive colleagues, including Chief Executive Steve Russell and Chief Nurse Jill Foster.
Monica said: "I've loved every minute of working as a nurse for the last 50 years. Most of my life has involved making patients comfortable and happy, and this is the end of an era. I'll miss everything about my job, including patients and colleagues.
"The highlight of my career has been meeting patients every day, but I can't wait to spend more time with my grandchildren and family after my retirement."
Stephanie Davis, Emergency Department Matron at Harrogate and District NHS Foundation Trust, said: "Monica is part of furniture in our Emergency Department and a fantastic friend, and she'll be missed incredibly by the team, who she looks after so well.
"She'll be a big miss for patients too, who often recognise Monica from previous visits to the department. We're really sad that we won't be seeing Monica as much, but wish her the happiest of retirements."
Following her retirement, Monica plans to spend more time with her family, including her grandchildren.
Harrogate District Hospital's Emergency Department cares for over 50,000 patients each year, with major, life-threatening illnesses and injuries and provides a 24 hour service to patients from across North Yorkshire.