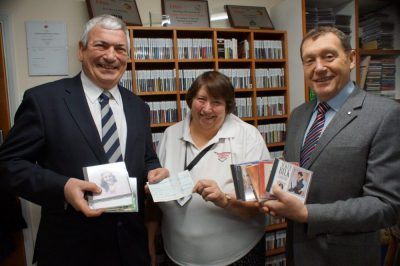 A North Yorkshire charity's call to help continue the upgrade of its facilities has been answered by local Freemasons.
Harrogate Hospital Radio approached members of Harrogate and Claro Lodge asking if they could help meet the cost of new shelving units to house its extensive CD collection.
The lodge successfully applied to the Provincial Grand Master's Fund, and, during a visit to the radio station – which is located within Harrogate District Hospital – presented a cheque for £500 to pay for the furniture and its installation.
The charity's fund-raising officer Ellie Jackson said: "Once again, we are incredibly grateful to the Freemasons for their continued support of Harrogate Hospital Radio.
"This latest donation, to replace the old shelving with new, purpose made floor to ceiling units, will take us another step closer to the total modernisation of our studios.
"Thanks to Freemasons, and the generosity of other organisations and individuals, we have a fantastic facility that can match that of any commercial radio station in the Yorkshire region."
John Birkenshaw, Harrogate and Claro Lodge charity steward, said: "Charity, and charitable giving, has been at the heart of Freemasonry since its foundation, and we are again delighted to be able support Harrogate Hospital Radio.
"This was my first visit to the hospital radio studios, and I was incredibly impressed by what I saw. This is a superb facility and I'm delighted that our application for a grant from the PGM's fund was successful."
Anyone wanting to find out more about Harrogate Hospital Radio, and the work it does, should contact the station on 01423 553342.