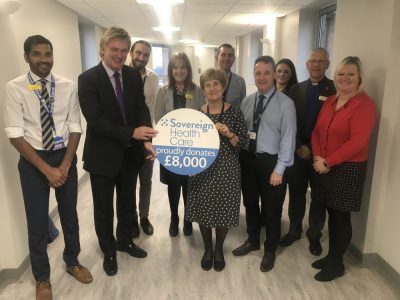 West Yorkshire-based cash plan provider Sovereign Health Care has donated money to Harrogate District Hospital to create ablution facilities for ritual washing in preparation for Muslim prayer and worship.
Ablution is an essential element of the Muslim tradition. It involves washing the hands, mouth, nostrils, arms, head and feet with water and is an important part of ritual purity in Islam. There is an obligation for prayers to be offered five times a day.
The ablution room can be found in the Chaplaincy Centre itself.
The Chaplaincy Centre includes the Chapel, which is accessible throughout the day and night. This is available for prayer and reflection for people of faith and is equally accessible for anyone who simply wants to have a quiet and reflective time by themselves.
The funds have been donated to the hospital's charity, Harrogate Hospital and Community Charity.
Sovereign Health Care is one of the UK's longest established health care cash plan providers. Their Community Programme has donated more than £7.9million in the past 12 years to support a wide range of charities and projects which benefit communities across Yorkshire, including £1.7 million to NHS trusts in the region.
Angela Schofield, chair of Harrogate and District NHS Foundation Trust, said: "We are very grateful to Sovereign Health Care for their generous donation. Part of this donation has enabled us to provide ablution facilities for Muslim members of staff, patients and visitors.
"We greatly value our relationship with Sovereign Health Care and thank them for their continuing support for our patients and staff."
Revd David Payne, Chaplaincy Team Leader, said: "In today's multicultural and multi-faith society, it is very important to provide appropriate facilities wherever possible. The provision of the new facility for ritual ablutions is a significant step in meeting needs that were not being adequately provided for until now.
"I am very pleased that the funding has been allocated in this way and delighted to be able to offer the enhanced facility to staff, patients and visitors alike."
Sovereign Health Care has no shareholders, so any surplus is available to reinvest into the business or donate to good causes, particularly those that help improve health and wellbeing and encourage people to live healthy lifestyles, such as the NHS. As well as its annual grants – which go towards hospital funding and nurse training programmes – Sovereign's work fundamentally supports the NHS year-round, by helping people be more proactive about their health via its cash plans.
Russ Piper, chief executive of Sovereign Health Care, said: "We're extremely proud of our long history of working collaboratively with the NHS, not only in supporting local hospitals, but also in our actual commercial business of providing cash plans.
"We're delighted that this donation to Harrogate District Hospital has enabled them to provide these facilities for the Muslim community."
For more information about Sovereign Health Care's Community Programme, visit www.sovereignhealthcare.co.uk/about/community-programme