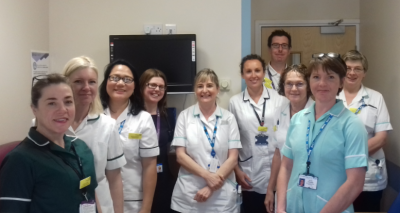 Members of the public are being invited to attend Harrogate and District NHS Foundation Trust's Annual Members' Meeting later this month, where they can learn more about the Trust's approach to supporting patients being discharged from hospital.
The formal meeting takes place on Wednesday 24 July 2019, and offers members of the public the opportunity to join the Trust's governors and senior leaders, including recently appointed Chief Executive Steve Russell. It takes place 5.45-8pm, with registration, information stands and networking from 4.45pm in the Calder Room, The Pavilions of Harrogate, Great Yorkshire Showground, Harrogate, HG2 8NZ.
The theme of this year's Annual Members' Meeting is 'There's no place like home', focusing on the Trust's Supported Discharge Service which expanded last year. The service provides treatment and rehabilitation to patients in their own home and other care settings in Harrogate and the local community. Therapists assess patients in hospital, facilitate discharge and work with others to support them in their usual place of residence. At the meeting, members of the staff in the service will give a presentation about their work, with an opportunity for discussion and feedback on supporting people at home.
The Annual Members' Meeting will also include an overview of the last year from the Trust's Council of Governors, an opportunity to ask questions on the Trust's Annual Report and Accounts for 2018/19, and a question and answer session with members of the Trust's leadership team.
Angela Schofield, Chairman of Harrogate and District NHS Foundation Trust, said: "We'd be delighted if members of the public joined us at our Annual Members' Meeting this year, and hear all about the great work going on across our organisation, including our Supported Discharge Service, which aims to provide care to patients in their own homes.
"We hope there will be a lot interest in the meeting on 24 July, so please book your place as soon as possible."
Places are limited, and those who wish to attend are asked to book by contacting the Foundation Trust Office on 01423 554489 or via email at: HDFT.Membership@hdft.nhs.uk. A copy of the Annual Members' Meeting agenda can be downloaded at: https://www.hdft.nhs.uk/about/membership/calendar/.